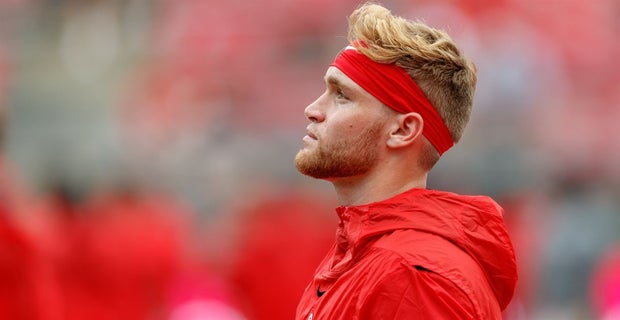 Another day, another high-profile quarterback in the transfer portal.
This time it's Ohio State rising redshirt sophomore Tate Martell, who, before Justin Fields' arrival in Columbus, was in line to replace Dwayne Haskins as the program's starter. But with Fields in the fold, Martell is exploring options elsewhere. Other programs can contact an athlete once his name lands in the transfer portal. It does not, however, guarantee a player will transfer. Merely that he's exploring the option.
Martell, who ranked as the No. 56 overall player in the 2017 class per the 247Sports Composite, is a two-time Gatorade National Player of the Year and did not lose a start at Bishop Gorman High School (NV).
Ohio State mainly utilized the 5-foot-11, 210-pound QB as a change-of-pace rusher. Martell did finish the year 23-for-28 with 269 yards passing, one touchdown while averaging 9.6 yards per attempt.
Martell, like Justin Fields, Kelly Bryant and Jalen Hurts before him, won't lack for transfer options. But unlike those three – Fields with a potential waiver and Bryant and Hurts as graduates – Martell will have to sit out a season before again regaining his eligibility.
These are 12 destinations, plus a wild card, that make sense for Martell based on fit, history, style and logic.