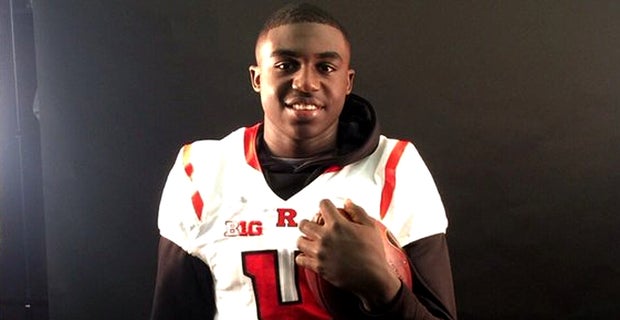 Rutgers football landed a big commitment today in the class of 2019 as Coatesville (Pa.) running back Aaron Young has decommitted from Michigan State and signed with the Scarlet Knights. The news was made public moments ago when Rutgers received his letter of intent. Young's older brother, Avery, started this season as a freshman cornerback and that played a role in Aaron's decision. 
The younger Young has also been on campus multiple times in the past month as Rutgers managed to close on the talented three-star prospect. Moments ago, head coach Chris Ash talked about Young when he appeared on the Big Ten Network.
"Aaron Young flipped today and we got Aaron. We've been recruiting Aaron for a couple of years," Ash said. "We really like Aaron's versatility. He's like Raheem Blackshear is for us. he can play running back, he can play slot, we think he can be an impact returner. With those two guys, we think we really improved our offensive skill and added some depth at some positions of need."
Young becomes the highest -rated recruit in Rutgers' football class of 2019 and is the fourth prospect to commit today. All those prospects reside outside the state of New Jersey as Ash is extending the program's recruiting reach beyond the Garden State.
"Everybody says we need to keep the in-state players here at home, and we need to do that, but we're in the Big Ten East and we have a ton of good players here in our state and a lot of historically good teams come in and try to recruit them," Ash said. "It's a competition to keep those players here. This year, we kind of changed our philosophy a little bit and we spread our net a little bit to go to other areas to go get players we think are Big Ten caliber players."
Young will join fellow running back commit Kay'Ron Adams of Warren, Ohio, who will also bring a lot of talent to Piscataway.
"We're expecting Kay'ron Adams to come in and contribute right away and Aaron Young, we think he's going to have an opportunity to do that also," Ash added.
Young compiled an impressive offer list from 24 schools. Down the home stretch of his recruitment, he was also considering Penn State. However, he shunned the Nittany Lions in favor of Michigan State. That commitment came on Oct. 21st of this year, although Rutgers did not stop in its pursuit of Young. He continued to make visits to the campus, even if it was to just check out his brother suit up as part of the Rutgers starting defense. 
Young will not enroll early and is expected to arrive at Rutgers in June.