For the second straight year, Penn State must replace its starting running back following the early exit of a junior standout. Miles Sanders adopted the same strategy as Saquon Barkley on Thursday, electing to forgo his final season of collegiate eligibility for an opportunity to prove himself at the professional level.
"As I prepare for the road ahead, I truly believe this is the best next step for my future," Sanders wrote on Twitter. "Thanks to so many of you, my future is bright and I'll never forget my home here at Penn State."
A bright future also appears to be in place for the Nittany Lions backfield, which welcomed another blue-chip prospect Friday upon the arrival of Noah Cain. Less than three weeks after picking Penn State over Texas during the early signing period, Cain has enrolled early at the university.
Considered the No. 7 running back in 247Sports 2019 composite rankings, Cain spent nearly his entire prep career in a Power Five recruiting spotlight. After a 1,600-yard sophomore season, he transferred from Guyer (Denton, Texas) High School to IMG Academy (Bradenton, Fla.), where he shared the backfield with top overall running back recruit Trey Sanders, who signed with Alabama.
Throughout his recruitment, Cain consistently expressed a desire to make an immediate impact, aiming to use early enrollment as a springboard toward early consideration for a prominent role.
"There's an opportunity to start," he said Wednesday. "I'm ready for the competition after playing at IMG the last two years. I know, for myself, I plan on handling my business."
The 5-foot-10, 208-pound playmaker scored a three-yard touchdown Thursday night in the Under Armour All-America Game. Cain shared the field at Camping World Stadium in Orlando with future Nittany Lions teammate Devyn Ford — the No. 5 running back in composite rankings who pledged to Penn State last May.
Ford, a 5-11, 188-pond prospect who surpassed 6,000 rushing yards and 100 total touchdowns during his days at North Stafford (Va.) High School, doesn't arrive in Happy Valley until June. This presents him with a similar timeline that faced fellow Virginia product and 2018 five-star talent Ricky Slade, who emerged as a factor early and finished the season listed as Sanders' primary backup.
"Ricky got his feet wet; he got involved in his first game vs. Appalachian State and showed out, scored a touchdown," Ford said. "He went on and got momentum later in the season, and I know he can grow from there."
Slade, who stands 5-9, 198 pounds, finished his freshman campaign with 257 yards and six scores on 45 carries (5.7 per rush attempt). His best performances bookended the Big Ten schedule (10 carries for 94 yards and two touchdowns at Illinois; 11 carries for 64 yards and two touchdowns vs. Maryland).
"Once he continues to figure out this game, which he's gonna figure it out, it's gonna allow him to play to the level we all expect him to play at," Penn State running backs coach Ja'Juan Seider said in November. "The thing about the kid is he's been patient. He understands his role. He can look at Miles and learn from him. You've got a lot of experience right there."
Slade dealt with early adversity, fumbling twice during a rainy Sept. 8 game at Pittsburgh.
"That was just a 'Welcome to College' moment where the game was kinda big, the weather, all those factors," Seider said. "To see him take that next step and mature from that point on, I think he's done a great job of that and moving forward."
Journey Brown wasn't as lauded a prospect as Cain, Ford or Slade, but the redshirt freshman was an undeniably intriguing athlete coming out of Meadville (Pa.) High School, where he led all Pennsylvania players in total touchdowns (51) as a senior and claimed back-to-back 100-meter PIAA state championships while setting a meet record (10.43 seconds).
The 5-11, 205-pound redshirt freshman took a step forward in 2018.
"We talked about him early, about taking that step from being a track runner to a football player," Seider said. "… Sometimes people think you just get the ball and run. You still have to have great eye progression on reading keys and what you're looking for in the run game. And also, you're like an O-lineman. You're tied into (pass) protection."
As the staff's trust in Brown grew, so did his on-field opportunities. He earned touches in five contests, averaging 5.5 yards on eight carries.
"He's prepared different," Seider said. "He's been more focused. He's been understanding his assignments, which has allowed him to get on the field because the kid's got a talent. It was just a matter of when that's gonna happen."
Brown and Slade are the two returning scholarship members of Penn State's running back room, which loses Sanders and fifth-year seniors Mark Allen and Johnathan Thomas. CJ Holmes, a former four-star prospect and Notre Dame player, walked on to the Nittany Lions roster last offseason and carries three remaining seasons of collegiate eligibility.
Sanders, assessing this group's 2019 outlook after his Penn State finale in the Citrus Bowl, described a healthy situation.
"Our whole RB room is just competitive," he said. "We're all competitive and we're all different. Journey has the top speed, Ricky is a little shifty in the holes and is explosive."
Sanders believes the Nittany Lions have assembled one of the country's most consistently effective running back corps.
"It started back in the day but Saquon really elevated it and gave us a spotlight," he said. "Then I took it to make a name for myself; (we) really just keep it going."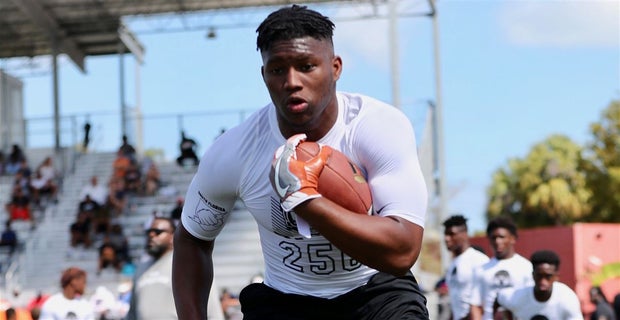 Sanders, who totaled 1,413 yards and nine touchdowns on 244 touches in 2018, made up his mind to move on, but spoke highly of the situation that would've awaited him in Happy Valley had he stuck around.
"If I come back, they're gonna make me work and make sure I keep my job; and my job is to make sure I don't lose my job," he said. "Just keeping our room competitive and making it better every year. … They make me better and I make them better."
Ford anticipates that will the case long-term.
"I expect a high level of competition, obviously," he said. "And I expect us to have a chemistry like no other. We should all be able to get touches, be on the field at the same time, and just create havoc. … We all can mesh together and create a monster."
Few programs across the country are capable of landing a duo like Cain and Ford, who claimed 70-plus combined scholarship offers. Recruiting is the lifeblood of college football title contenders, and Penn State is delivering at an impressive rate.
"I like how we bring in all the top running backs," said Sanders, a former five-star prospect. "A big part of our offense is the running game, and when you've got guys like that back there, who wouldn't want to run the ball?"
With Sanders gone, Cain in town and Ford following him to campus, where Brown, Holmes and Slade are well underway with their development, a fresh era is underway for the Penn State backfield. The newest addition expects it to be a successful one.
"The biggest thing for me is we're a few pieces away from taking over the Big Ten — being over Michigan, being over Ohio State," Cain said. "There's a lot of potential with this team and it's young, so if we come in there and do our part, then we can be closer to that goal."