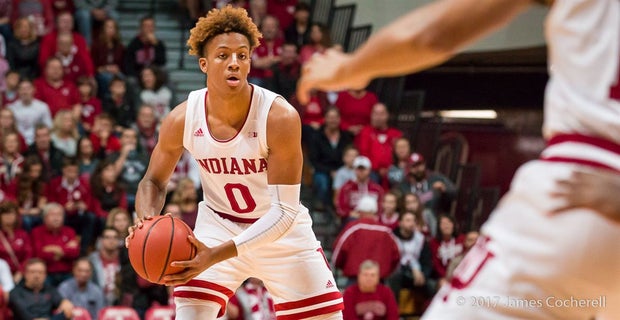 Record: 8-2
Ken Pom Rank: 25
Previous Power Ranking: 4
Indiana has been an interesting team to watch during the early stages of the season. The Hoosiers had quite a few new pieces heading into the season so many expected there to be a bit of a feeling out period at the beginning of Archie Miller's second season at IU. However, the Hoosiers have also been bit by the injury bug, and that has made it more challenging for this team to evolve. At one point during non-conference play, Indiana was missing five players as they were all dealing with various injuries. Fortunately for Archie Miller, he has gotten guys like Zach McRoberts and Devonte Green back on the floor, but IU is still missing the services of freshmen forwards Race Thompson and Jerome Hunter.
The Hoosiers have done a nice job of battling depth issues, and have won eight games with their two losses coming in true road games against Arkansas and Duke. Indiana has a pair of quality home wins against Louisville and Marquette. The Hoosiers also picked up a hard fought road win over Penn State that has them sitting at 2-0 in Big Ten play. 
Indiana has been led by the solid play of standout freshman Romeo Langford (18.2 points, 5.3 rebounds, 2.3 assists). There were high expectations for Langford heading into the season, and while it hasn't always been easy so far, Langford has done a quality job of helping this Indiana team win games. The strong play has already earned Langford the Big Ten freshman of the week on multiple occasions. Indiana has also received big production from senior Juwan Morgan (15.5 points, 8.0 rebounds, 2.3 assists). The senior forward has came through with some big games, and even bailed IU out in several non-conference games. Freshman point guard Robert Phinisee (7.6 points, 3.5 assists, 2.9 rebounds) and sophomore combo guard Al Durham (8.3 points, 1.8 assists, 1.4 rebounds) have also done a good job of taking advantage their opportunities, and both guys have been rock solid for Archie Miller and his staff. The Hoosiers have also gotten flashes of strong play from both Justin Smith (8.4 points, 4.1 rebounds) and De'Ron Davis (5.9 points, 2.3 rebounds), and that is something Indiana will need more of as they move forward.
Indiana will have one last test in non-conference play as the Hoosiers will play their fifth straight game against a power six conference opponent when they matchup with Butler in the Crossroads Classic on Saturday. The Hoosiers will then play several non-conferences games against lesser opponents before Big Ten play resumes next month. Indiana will host Illinois and make the trip to Michigan during the first week of January.