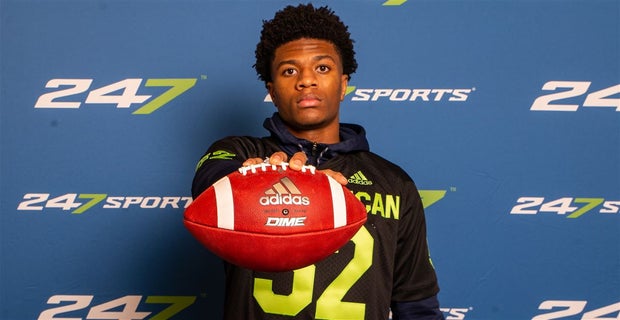 SAN ANTONIO, Texas – The Nittany Lions are sitting on the nation's No. 10 recruiting class according to 247Sports highlighted by two All-Americans who checked in on Monday in preparation for Saturday's game to be played inside the Alamo Dome and broadcasted live on NBC. Kickoff is set for 1 p.m. EST.
Representing Penn State is the country No. 3 offensive guard in Caedan Wallace and the No. 11 outside linebacker in the land Lance Dixon. Both talked about their excitement to suit up in Happy Valley on the next level and never wavered on their pledge to James Franklin and his staff.
"Definitely the opportunity of playing early at a big school," said Dixon. The West Bloomfield (Mich.) High standout also considered Wisconsin, Ohio State, Michigan and Michigan State.
"Definitely felt it was a family atmosphere over there. It drew me closer and closer to the program and coaching staff."
"Just the ability that I can come in and have potential to start early and joining a really good program in general is something I'm looking forward to," said Wallace. The Princeton (NJ) The Hun School blue-chipper also strongly considered Oklahoma.
Penn State has knocked on the door of the College Football Playoff a couple times over the last three seasons, and Wallace and Dixon believe they are part of the class that can get the Nittany Lions over the hump.
"That's what we're trying to do get Penn Sate over the top," Dixon said. "We have a group chat, talk and text about what we can do in the future. It's very promising. We're going to come in there and work. I've watched everyone's film and everyone looked amazing. Penn State has recruited the best guys."
Dixon added he was especially impressed with Brandon Smith and Devyn Ford's film.
"Coach Franklin talks about it a lot but the intensity people bring to the field," Wallace said. "He wants more intense offensive linemen. Bring in players like me, Devyn Ford, Brandon Smith, he wants intense guys."
Dixon is one of the more versatile linebackers in the country and the Penn State staff plans to use him as such.
"I'm going to play SAM and on 3rd and long they used to sub out the linebacker but they want to get me to the point where I can stay in the game in all situations," Dixon said.
Practice begins on Tuesday at the All-American Bowl. Stay locked to 247Sports for more updates.