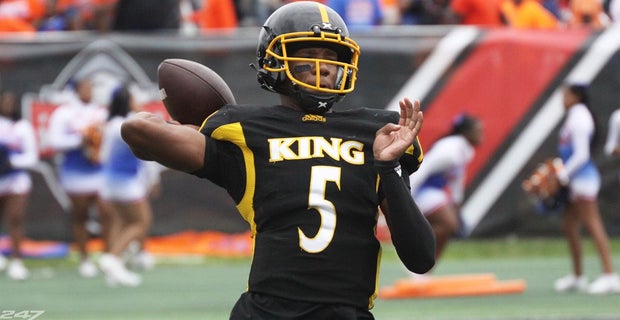 The Michigan State Finals were on Friday and Saturday and there were some excellent performances.
The aforementioned Dequan Finn was great for King in their win over Muskegon. I have gotten questions about whether or not schools would try to poach him from CMU. I am certain attempts will be made, but as mentioned previously, he was planning to enroll early at CMU, so I believe he would like to see that through, but it will not stop schools from trying.
Also for King, junior running back Peny Boone rumbled to several big runs causing many Michigan and Michigan State fans to wonder why neither school has offered the 6-foot-2, 225-pound back. We were also impressed with sophomore safety Jaylen Reed, Cincinnati cornerback commtAhmad Gardner and senior receiver Dominick Hannah in the win. Hannah emerged this season and is a speedy slot guy.
Warren De La Salle's Jacob Dobbs was all over the field in his team's win over Mona Shores. He made tackle after tackle and several big plays on offense. He is committed to Holy Cross but Michigan has offered a preferred walk-on opportunity.
New Lothrop's Aidan Harrison may not have been a name many were familiar with before his game, but by the end, there were some Big Ten fans wondering how their schools let him get to Missouri. Harrison is 6-foot-3 with track speed. The Tigers may have to keep an eye on him the next few weeks as other programs take another look.
Chippewa Valley's David Ellis, an Indiana commit, had a kickoff return for a touchdown in his team's thrilling win over Clarkston. Ellis is, without a doubt, one of the best players in the state of Michigan and the Hoosiers got a steal there. In the same game, his quarterback Tommy Schuster went 13 for 13 and tossed two touchdowns to wide receiver Martice Bunting, Look for both of those seniors to get a lot of looks in the coming month.