214 receptions. 2,842 yards. 18 touchdowns.
Those were the numbers DaeSean Hamilton produced during his four years at Penn State. He left the Nittany Lions for the NFL as the school's all-time leading receiver.
The Denver Broncos took Hamilton in the fourth round of the 2018 Draft, and he arrived at Dove Valley as a relatively accomplished and polished route runner. That was the book on Hamilton entering the Draft — for what explosive traits he lacked as a receiver, he made up for with his prodigious route-running ability.
Although we're yet to see that skill-set come out in the wash as a Bronco, Hamilton is about to get his opportunity to put his ability on full display. With the news that No. 1 wideout Emmanuel Sanders has been lost for the season, Hamilton has moved up the depth chart.
He's a starter now, next to fellow rookie (second-rounder) Courtland Sutton.
"You've got to have self confidence in yourself," Hamilton said following Wednesday's practice. "Then I see guys making plays all of the time, I see guys my age making plays all of the time—there's a reason why I'm in the NFL. I don't expect there to be any downfall."
Hamilton has a quiet confidence about him. But the feeling is mutual. His team and his quarterback have perfect confidence that he can step in and serve as the Broncos' No. 2 receiver.
"No, he's a great kid," Case Keenum said Wednesday, "and he works his absolute tail off. Last week, he didn't catch a ball. But you saw how we motioned him down there and he's sticking his nose in there to block those safeties from last week. Whatever we've asked him to do, he's done it. Not just as a pass catcher, which he's really, really good at."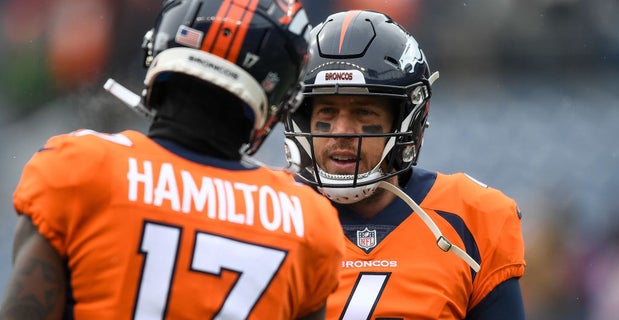 Hamilton only has five receptions (61 yards) this season, but aside from the knee injury that briefly sidelined him, he's been buried on the depth chart behind Sanders, Sutton and Demaryius Thomas — before Thomas was traded.
"I think he's a guy that we've been trying to feature more and more over the last couple of weeks," Keenum said. "It's going to be exciting to see, the last quarter of the season and the end of this year to see how he continues to develop."
What's next for the Denver Broncos? Don't miss out on any news, take a second to sign up for our FREE Broncos newsletter!
The onus now falls on Hamilton, as well as Sutton and first-year wideouts Tim Patrick and River Cracraft, to bridge the gap left behind by Sanders' injury and carry the Broncos' offense to the finish line. Both Hamilton and Sutton are high-character, high-football IQ receivers whom the Broncos are fortunate to have as their 'emergency' starting wideout duo. They're both enormously talented.
There will be growing pains, but the next four weeks could see a couple of new NFL stars be born in the NFL. As bad as injuries hurt, they also create opportunity for guys lower down the depth chart just biding their time, waiting for a chance to shine. And now, opportunity knocks for DaeSean Hamilton. 
"I know guys like me, Tim and River, we've been working hard all season," Hamilton said. "We've been doing stuff every single day like we always have been doing. Not a lot is going to change, obviously just the responsibilities and the roles may shift a little and things like that. But the way I attack every single day, that's not going to change. That's why I keep the same mentality, keep the same confidence in myself."
Hamilton will make his first NFL start this coming Sunday, as the Broncos travel to take on the 2-10 San Francisco 49ers.