There was potential for Penn State to return its entire starting offensive line in 2019, but Ryan Bates and Connor McGovern ensured that wouldn't be the case last week when they announced intentions to enter the NFL draft.
The pair of juniors, who compiled 70 combined college starts and earned third-team All-Big Ten recognition in 2018, will take a shot at playing professionally, forgoing their respective final seasons of eligibility at Penn State. Those decisions, along with the departure of oft-used senior tackle Chasz Wright, create a challenge for Nittany Lions offensive line coach Matt Limegrover as he assembles and assesses his 2019 unit.
Let's begin with the losses at tackle.
Bates, who played both tackle positions for Penn State, emerged as a core component of the offensive front during the 2016 season. He earned Freshman All-American honors that year and was one of two offensive linemen — along with center Brian Gaia — who started every game of a Big Ten championship run.
Bates started at left tackle in the first nine games of 2018 before flipping with Will Fries and lining up at right tackle for the final four contests.
"I don't know why it happened, but Limegrover thought it was the right move and I think it worked out pretty well," center Michal Menet said in November.
Fries stepped into a starting role midway through the 2017 season as a redshirt freshman, and later assumed left-tackle responsibilities when Bates suffered an injury. He battled Wright for the right tackle job this summer, and the two were routinely involved in a rotation at that spot this season.
Wright started the opener vs. Appalachian State and received another starting nod Nov. 3 at Michigan, but largely relinquished first-team reps to Fries at right tackle. He started 16 games during the last three seasons, and that experience isn't easily replaced, especially when you're one injury away from relying on a third tackle.
Plenty of attention will be placed on Fries' progression entering his fourth year with the program, along with which side of the line Penn State prefers him to play.
Rasheed Walker was Penn State's top target heading toward National Signing Day 2018 and, after beating out Ohio State and Virginia Tech for his signature, the Nittany Lions went to work developing one of America's most prized tackle prospects. Listed 6-foot-6, 308 pounds, he has the physical frame to add substantial pounds without sacrificing his athleticism and was pointed to by Bates as a teammate pushing particularly hard to play.
We witnessed Walker's left tackle practice snaps with the "varsity" squad grow as autumn advanced and a productive, positive offseason should thrust him toward the front of the line as reps are distributed in spring camp.
"Rasheed has got the potential to be better than I ever was," Bates said during Citrus Bowl prep. "I'm very excited (after) watching this whole year; watching him grow and mature as a player and a person. … He's gonna be very good in the near future."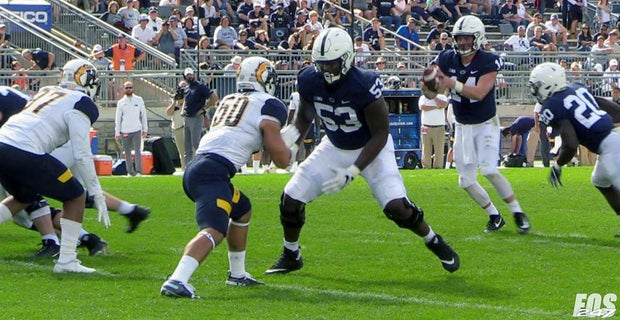 Penn State signed a pair of top-10 tackle recruits last winter but learned shortly before his enrollment that Nana Asiedu would be unable to play due to a heart condition. Asiedu remains with the program in a supportive role, but his on-field absence certainly impacted personnel plans.
Walker, who preserved redshirt status in 2018 despite seeing game action, will be joined in the tackle group by at least one first-year player: top-ranked junior college offensive line prospect Anthony Whigan.
One of two Lackawanna College standouts who signed with Penn State in the 2019 recruiting cycle — safety Jaquan Brisker arrives this summer — Whigan was a first-team All-Northeast Football Conference selection in 2018 after earning a second-team nod as a freshman. He enrolled last weekend and is the lone offensive line addition this winter.
The newcomer has two seasons of collegiate experience under his belt, though he encounters an obvious leap in the Big Ten. His early enrollment, impressive physique and expansive reps at the JUCO level create a sense of optimism that Whigan will be ready to compete.
"Anthony Whigan is a skinny 300 pounds and still has a lot of room to grow," Penn State offensive recruiting coordinator Tyler Bowen said in December. "He is super-athletic. You watch him at Lackawanna and he played four positions on the offensive line. He's played both guards, both tackles. He provides flexibility but has the athleticism to play on the edge."
Redshirt sophomore Alex Gellerstedt received praise for his work on the scout team early this season but has taken offensive reps in only five games through three years. He ended 2018 listed third-string at both tackle positions on the official PSU depth chart, though it's important to note that pecking order did not feature Walker or Des Holmes.
Holmes, a redshirt freshman, seemed to make significant strides during his first full offseason and was listed as second-team left tackle through September. That changed when second-team right guard CJ Thorpe switched to defensive tackle, leading Holmes to fill that slot the rest of the way.
This brings us to the interior loss of McGovern.
He started every game in 2017 and 2018, and started nine contests as a true freshman in 2016. McGovern was anchored at center in 2017 before sliding to right guard this season, as redshirt sophomore Michal Menet stepped in as a first-year starting center.
The aforementioned Holmes was listed as McGovern's primary backup down the stretch this season, though Thorpe is the wild card in this equation. His ideal position moving forward will likely be the subject of a tug-of-war between Penn State's offensive and defensive coaching staffs, and a transition back to guard remains under consideration.
If that happens, he could be hard to beat for the job.
Fellow redshirt freshman Mike Miranda was the team's backup left guard in 2018 and starter Steven Gonzalez elected to return for his senior season, so there is some quality depth at the position. This becomes further apparent when you factor in freshman Bryce Effner — coming off a redshirt campaign — and 2019 signees Caedan Wallace and Saleem Wormley.
Wallace and Wormley enroll this summer, and both are considered brawlers. Though they've each been projected as college guards, Wallace, who started last Saturday in the All-American Bowl, also warrants consideration on the perimeter.
"You talk about a big, long athlete that's getting better and better," Bowen said. "He gives us some flexibility along the offensive line. We see him as a guy that's athletic enough to play the offensive tackle position."
Menet has a season at center behind him and will be looked upon as a veteran presence, along with Fries and Gonzalez. Freshman Juice Scruggs is a developing talent to monitor behind Menet.
Penn State remains active on the 2019 offensive line recruiting trail with National Signing Day (Feb. 6) looming on the horizon.