Senior Week has arrived at Penn State as quarterback Trace McSorley and other veterans prepare to play their final game in Beaver Stadium. The Nittany Lions, coming off a 20-7 victory at Rutgers, host Maryland on Saturday. 
Penn State leaned on another strong defensive effort against the Scarlet Knights, forcing three turnovers and securing 11 tackles for loss. Despite offensive struggles — particularly in the passing game — it was a memorable day for McSorley, who became the first Penn State quarterback to win 30 games as a starter and the third Big Ten player to surpass 100 total touchdowns.
"It's an accomplishment I'll be able to look back on when I'm done," McSorley said. "It's a lot on my teammates. I'm not able to do any of that without them. A lot of those are passes, so there's always someone catching it. Someone's always got to be doing their job, offensive line's gotta be protecting. So that's a team thing in my eyes."
Aside from some obligatory conversation regarding those personal accomplishments, he spent most of his postgame media session taking ownership of offensive inconsistencies that have plagued Penn State in 2018. Though this latest win did little to inspire the masses, it did push the Nittany Lions to 8-3 (5-3 in conference) and within striking distance of a New Year's Six bowl with one regular-season game remaining.
"We'll enjoy this for a couple hours and then move on to a significant week next week, honoring this senior class," Penn State coach James Franklin said afterward. "We want them to end it on a positive note because of all they've meant to Penn State."
Maryland head to Happy Valley after falling one point shy of an overtime upset attempt vs. Ohio State.
Penn State, ranked 15th in the latest Associated Press Top 25 Poll, can still complete its 2018 campaign with a double-digit win total. That would mark the program's first three-season stretch of such finishes since 1980-82.
Any chance at that achievement requires a victory over Maryland this weekend. Let's take an early glimpse at Penn State's upcoming opponent.
Opponent: Maryland
Nickname: Terrapins
Head Coach: Matt Canada (first season; 5-6 record)
2018 record: 5-6 (3-5 in Big Ten)
Last Game: home vs. Ohio State (52-51 loss)
Leading Passer: Tyrrell Pigrome (376 yards, 2 touchdowns, 1 interception)
Leading Receiver: Taivon Jacobs (298 yards and 2 touchdowns on 23 catches)
Leading Rusher: Anthony McFarland (1,022 yards and 4 touchdowns on 125 carries)
Defensive Standout: LB Tre Watson (110 tackles, 5 interceptions, 1 sack)
2017 record: 4-8 (2-7 in Big Ten)
All-time series between Penn State and Maryland: Penn State leads 38-2-1
Penn State's biggest win vs Maryland: 70-7 (1993)
Maryland's biggest win vs. Penn State: 21-17 (1961)

Last meeting: No. 10 Penn State 66, Maryland 3 (Nov. 25, 2018)
Penn State pounded Maryland on the road to complete a 10-2 regular season. The Nittany Lions surged to a 31-0 halftime lead, spurred by three total touchdowns for McSorley (one rushing and two passes to tight end Mike Gesicki). Running back Saquon Barkley scored twice in the first eight minutes of the third quarter to put things further out of reach, while backup quarterback Tommy Stevens put together his finest collegiate performance. Stevens rushed for 113 yards and three touchdowns, added a four-yard reception and threw to tight end Tom Pancoast for a score. Defensively, the Nittany Lions forced two turnovers, secured five sacks and allowed only 11 first downs. Maryland receiver D.J. Moore capped off his college career with 100 receiving yards on eight catches, and later declared for early NFL draft entry.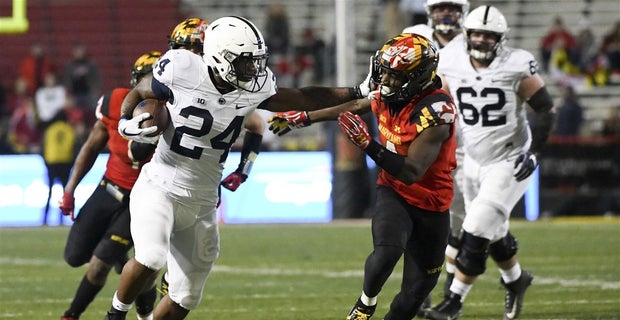 Last meeting at Penn State: Penn State 38, Maryland 14 (Oct. 8, 2016)
This game was sandwiched between two victories viewed as critical moments in program growth during the Franklin regime. One week earlier, Penn State prevailed over Minnesota in a matchup that reached overtime and directly followed a 39-point loss at Michigan that dropped PSU to 2-2 in 2016. One week later, the Nittany Lions upset unbeaten Ohio State en route to a surprising Big Ten championship. McSorley totaled three touchdowns in this contest, rushing for one and tossing scores to Gesicki and receiver DeAndre Thompkins. Barkley sent Penn State into intermission with a 24-14 lead following his 47-yard touchdown run, and he finished with 202 rushing yards. Miles Sanders — then a freshman — turned his only carry into a 25-yard touchdown. Linebacker Brandon Smith led all players with 14 tackles, and the Lions limited Maryland to 270 total yards.
What the 2018 matchup means
Penn State remains in the mix for a New Year's Six matchup (perhaps the Peach Bowl against a ranked SEC opponent?) and a commanding win over Maryland would enhance that case, especially after the Terps came so close to knocking off Ohio State. But dominant efforts have been few and far between this season, especially in Big Ten action.
Maryland has been on an emotional roller coaster this year, dating back to the tragic death of defensive lineman Jordan McNair and the controversy that followed and eventually led to the dismissal of coach D.J. Durkin. It remains to be seen how the Terps intend to fill that role but offensive coordinator Matt Canada has kept this team competitive through difficult circumstances as interim leader.
Maryland opened its season with a win over Texas, scored 63 points against Illinois in October, nearly spoiled Ohio State's Big Ten title hopes, and remains in contention for a bowl appearance entering its final regular-season game (that wasn't the case last year). Still there have been some clunkers along the way, including three conference road defeats by at least 21 points and home defeat vs. previously winless Temple, 35-14, in Week Three.
For Penn State, plenty of focus will be on the status of McSorley, who hasn't completed 50 percent of pass attempts in three of four games since suffering an apparent right knee injury Oct. 27. It's Senior Day in Beaver Stadium but might we see some of junior Tommy Stevens in relief at QB?
A win would mean a 9-3 regular season and a quality bowl opportunity somewhere warm this winter. The Nittany Lions are 4-2 at home this season.