Kerry Collins, the quarterback who orchestrated Penn State's potent offensive attack during an unbeaten 1994 season, became a member of the College Football Hall of Fame on Tuesday night. Elected for the honor last January, he was inducted during the 61st National Football Foundation Annual Awards Dinner in New York City.
"To be inducted into the College Hall of Fame is an absolute honor and a total thrill," Collins said during a National Football Foundation Q&A session (video clip courtesy of the NFF above).
He is the 20th former Penn State player to earn College Football Hall of Fame inclusion, and the latest since former Nittany Lions linebacker Shane Conlan entered in 2014.
"To know about the Penn State players who came before me and are now in there, of course Joe (Paterno) being in there, it's an extremely awesome honor," Collins said.
He spoke of Paterno's influence while on the verge of this personal achievement.
"He expected you to play hard all the time, be accountable and be a tough opponent to beat," Collins said. "He believed in doing the little things right, and I think that showed in the way that we played."
Collins was a catalyst for the undefeated 1994 Nittany Lions squad, completing 66.7 percent of pass attempts for 2,679 yards and 21 touchdowns during his senior season. Penn State, then in its second year as a Big Ten competitor, impacted conference record books by setting new high marks for points scored (526) and total yards per game (520.2).
The Nittany Lions averaged 48.1 points per game during an 8-0 run through the Big Ten, and that output remains a conference record 24 years later.
"Our 1994 team was special because we were extremely talented, first of all," Collins said. "You look at the number of NFL players that came off our team in 1994, especially the offensive side of the ball, it's just phenomenal."
He is the first player from that group to enter the College Football Hall of Fame.
"Not only were we talented, we were extremely hard-working," Collins said. "We were very selfless — we didn't have a lot of selfish ego guys on that team. We were willing to work hard, day in and day out. If you looked at our games on Saturday and our practices on Tuesday, you couldn't distinguish between the two as far as speed, tempo and effort. That's what made us really good. We were willing to come in and work every day."
Penn State punctuated that memorable 1994 campaign with a 38-20 victory over Oregon in the Rose Bowl. Despite an unbeaten record and the dominance displayed en route to that result, PSU settled for a No. 2 finish in the final Associated Press Top 25 Poll. Nebraska, which defeated Miami in the Orange Bowl, was recognized as national champion, albeit a controversial one.
Collins, who earned the Maxwell (CFB Player of the Year) and Davey O'Brien (top QB in CFB) awards in 1994, finished fourth in Heisman Trophy voting. Providing another indication of Penn State's offensive prowess that season, running back Ki-Jana Carter finished second for the Heisman, which went to Colorado running back Rashaan Salaam.
"On what was arguably one of the most dynamic offenses ever assembled, Kerry Collins was the driving force that made it go," Fran Ganter, the Nittany Lions' offensive coordinator from 1984-2003, told our Mark Brennan. "A group that included (five) first-round draft picks, All-Americans and future NFL players looked to him for leadership, and did he ever deliver. In addition to his great physical talents, Kerry managed to keep a group of superstars selfless, humble and unified in their goal to go undefeated during our historic 1994 season."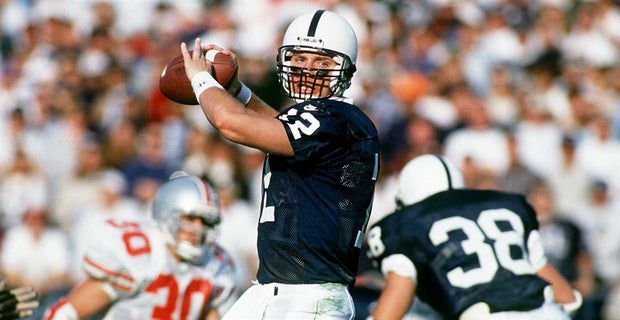 As a junior in 1993, Collins started the final nine games of Penn State's first Big Ten season, which ended with a Citrus Bowl win over Tennessee and a No. 8 ranking in the AP Poll. His college career totals include 5,304 passing yards and 39 touchdown tosses.
"Being a Pennsylvania kid, growing up watching Joe and his teams, I always respected and admired the program," said Collins, a native of Lebanon, Pa. "I was just happy to be a part of it. And then, as time went on and I saw the great players that were coming in with me and coming in behind me, I knew good things were gonna happen when I was there. I was the beneficiary of an extremely talented group of people, some great coaches and a university that provided a lot of support for us."
He was selected fifth overall in the 1995 NFL Draft, picked by the Carolina Panthers. Collins spent his first four professional seasons with Carolina, and a 17-year career led him to stints with the Indianapolis Colts, New Orleans Saints, New York Giants, Oakland Raiders and Tennessee Titans.
A two-time Pro Bowl selection (1996 with Carolina and 2008 with Tennessee), Collins was the starting quarterback for New York during its run to Super Bowl XXXV (2001), in which the Giants lost to Baltimore. During his NFL career, he defeated 31 different teams, with the Miami Dolphins as a lone exception.
Collins continues to keep a close eye on Nittany Lions football, and, before accepting recognition for past success, he had high praise for the current state of affairs.
"There's a long history of what Penn State is and what it's all about, and it's important to carry that on," Collins said. "It's important to carry the tradition on, the values, what it stands for. I think Coach (James) Franklin and the squads he's had recently are doing that. It means a lot to a lot of guys to watch our team and know they're doing it the right way."