Coming off an impressive 339-yard rushing perfromance against Ohio State the week prior, Maryland was expected to have an offensive advantage in the cold, soggy conditions against Penn State this past Saturday. So, many fans found it curious when Penn State opened up as two touchdown favorite against the Terrapins. Well,the odds-makers apparently knew something as the Nittany Lions put together their most complete game of the season in a 38-3 route of the Terrapins.
In back-to-back seasons Penn State has now outscored Maryland 104-6 and the Terrapins have not posted a touchdown against the Lions in 10 consecutive quarters dating back to halftime of the 2016 game.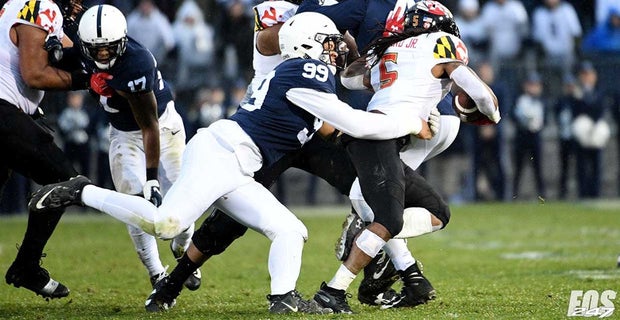 PSU enjoyed impressive performances from an array of Nittany Lion players across the squad in each phase of the game, which should make voting for the Penn State Player of the Maryland Game a challenge for many Lion fans.
CYBER MONDAY EXCLUSIVE: Get 50% off an annual VIP Penn State Subscription
Here are the candidates for the Lions247 With Fight On State Player of the Wisconsin Game. Cast your vote for your Player of the Game below.
The sophomore defensive end served as a wrecking ball on Marylan's pocket for much of this game. When not getting to the quarterback, he was demanding a lot of attention from Maryland's offensive line, which opened up opportunities elsewhere for PSU. He ended with 3.5 tackles for loss which raised his season total to 20.
Trace McSorley, QB
The senior quarterback was a bit slow to start with his passing game, but settled in and got comfortable, connecting on 12-of-22 passes for 230 yards and a touchdown. He also served as a major offensive spark early in the game rushing for two early scores and rolling up 71 yards on the ground on 11 carries.
Offensive Line
The unit, which was without starting center Michal Menet due to injury, put in a bounce-back performance after some struggles against Rutgers in the week prior. The line ended up blocking for 565 total yards (310 rushing) and 38 points. They also paved the way for an average of 7.0 yards per carry despite not having a run londer than 35 yards. Plus they only gave up one sack in the process.
Jake Pinegar, PK
The freshman kicker was again a reliable weapon for the Nittany Lions despite the sloppy conditions. He ended the day going 1-fo-1 on field goals, hitting a 25-yarder and went 5-for-5 on extra points. His biggest contribution thoughmay have been stepping in for kickoff duties hitting three for an average of 61-yards while helping PSU gain an advantage in field position.
Miles Sanders, RB
In a game where the conditions were cold and wet, Sanders was major part of the offensive output, rushing for 128 yards on 14 carries, averaging an impressive 9.1 YPC. He was another weapon the Terrapin defense had no real answer for. Sure, he fumbled, which ended up not being a factor, but he was big dimension of the offensive success.
Cast your ballot for your Penn State Player of the Wisconsin Game below:
The FOS/247 Player of the Game is the first and only game honor for Penn State players by Nittany Lion fans. Fan voting is conducted exclusively at FOS/247 after each Penn State football game.