It feels like it's been months since we've been able to breathe in the fourth quarter of a Penn State football game. A matchup with the Rutgers Scarlet Knights could be exactly what we all need.
 
Penn State
Rutgers
2018 records
7-3 (4-3)
1-9 (0-7)
Head Coaches
James Franklin (67-35 overall, 43-20 with Penn State)
Chris Ash (7-27 overall, 7-27 with Rutgers)
kickoff
12: P.M. ET
television
Big Ten Network
STream
BTN2Go
spread
Penn State -28
a big day for the defense

Led by true freshman Arthur Sitkowski, the Rutgers offense has been abysmal all season, averaging just 274.4 yards per game, third worst in all of college football. That should have Brent Pry and the entire defensive staff drooling. 
Penn State has played their best defense over the past few weeks, with notable performance from guys like Yetur Gross-Matos, Robert Windsor, and Micah Parsons. Those guys should absolutely eat on Saturday. Between that and some rough weather, we could see a healthy amount of turnovers. This is the Nittany Lions best chance for a shutout all season so don't be surprised to see it happen.
Don't get too fancy

Penn State handed Wisconsin the game back after Tommy Stevens fumbled late in the fourth on a running back motion in. The Nittany Lions do not need to get that fancy to walk out of New Brunswick with the win.
James Franklin's team simply has better players. Ricky Rahne just needs to settle in and call his offense. Trace McSorley should have a good amount of time to pass, so the Nittany Lions will not need to run a lot of gimmicky plays to keep the defense honest. It's not out of the realm of possibility that this team can drop 50 without opening up the playbook too far.
Play the young guys

This is the time of the season where the new redshirt rule is likely to play a big role. Guys like Jayson Oweh, Justin Shorter, Rasheed Walker, and Trent Gordon are all set up to play up to the four game limit for the season to gain some invaluable experience, but maintain their redshirt.
While Jesse Luketa has already burned his redshirt, and players like Donovan Johnson is of course a redshirt freshman already, both them and others could really benefit from an increase in snaps as they look to take on larger roles in 2019. This should be one of the most diversity in snap counts of the season so far. 
Make your Thanksgiving turkey in one of those turkey fryers that look really dangerous because you are invincible if…

The offense shows a good balance and is able to gash Rutgers for big plays on the ground and through the air. Rutger's offense could leave their defense in some tough spots, so Penn State should have its opportunities with a short field.
Three freshman score. My money is on Shorter, Hamler, and Freiermuth. This would be a youth movement unlike any we've ever seen in State College, and will give a lot of guys confidence heading into next season.
Micah Parsons has 15-plus tackles. He overtook Koa Farmer in terms of snaps last week, and this is the week he puts it all together. He has a breakout game and sets himself for All-Conference runs each of the next two seasons.
go rake leaves or shovel snow in sadness if…

Trace McSorley is still banged up and injuries himself further. Penn State can win this game without him, so putting him out there with a higher risk of injury would be one of the biggest mistakes the staff has ever made.
The Nittany Lions rely too heavily on inexperienced players. It would be wise for the team to rotate in a lot of young guys, but Rutgers is still an FBS football team. They have the talent to make you pay for underestimating them.
Rutgers has their game of the Chris Ash era. Penn State is going to win this game, but a good showing by the Scarlet Knights could really hurt the Nittany Lions in terms of style points as they look to sneak back into a New Years Six bowl.
Prediction in gif form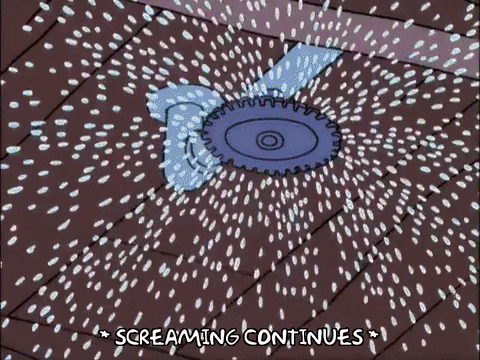 Rutgers has been a dumpster fire under Chris Ash and this week could be the game that seals his fate in New Brunswick.
The offense comes out hot and scores on their opening drive. The defense is fired up and gets an early takeaway. The Nittany Lions struggle to move on the short field and settle for field goal. The offense keeps the momentum going though, scoring three more times before halftime. Jahan Dotson leads the charge and has his first career 100-yard day. On defense, it will be a dominant day for Shareef Miller. The junior will finish with multiple sacks, and the defense will not allow a point while he and the rest of the starters are out there. The backups play the majority of the fourth quarter and find the end zone before it's all said and done. The score won't impact the outcome of the game, and Penn State will cruise to a 55-6 victory.