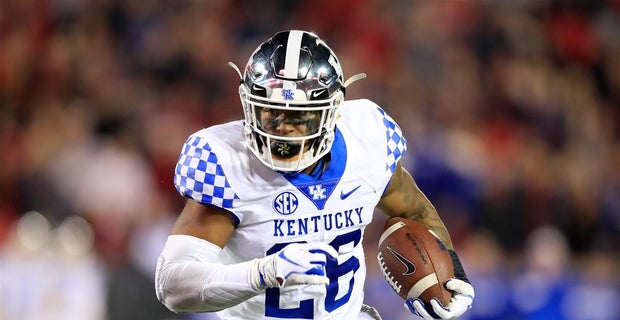 The 2018 Kentucky Wildcats made a lot of collective history this season, winning nine regular season games for the first time since 1977, posting a winning record in the SEC for the first time in 41 years and reaching a New Year's Day bowl game for the first time since 1998.
But running back Benny Snell is also on the precipice of individual history.
Although just a junior, Snell is likely to declare for the NFL Draft and play his final game as a Wildcat in the VRBO Citrus Bowl against No. 12 Penn State in Orlando on Jan. 1.
Already third all-time in SEC career rushing touchdowns behind only Tim Tebow and Herschel Walker and a top-15 rusher in SEC history, the now two-time First Team All-SEC performer needs just 107 rushing yards to surpass Sonny Collins and become Kentucky's all-time leading rusher.
For his career, Snell has rushed for 3,729 yards. This season, he has rushed for 1,305 yards and 14 touchdowns, giving him three of the top 10 single seasons in school history for both rushing yards and rushing touchdowns.
In 2018, Snell has rushed for 108.7 yards per game, meaning he'll only need an average performance by his standards this season to break the record. Snell has rushed for 107 yards or more five times this season and 14 times in his career.
Snell is averaging a career-high 21.9 carries per game this season but a career-low 5.0 yards per rush. With the record on the line, one would think Kentucky would force feed Snell the ball in the Citrus Bowl but even at his season average of 21.9 rushes per game, Snell would need to average only 4.9 yards per carry against Penn State to catch Collins.
But what about the Nittany Lions? Not wanting to be on the wrong side of history, it's highly doubtful that the Penn State defense will be active participants in Snell's quest for the rushing record.
James Franklin's club ranks 71st nationally in run defense this season, allowing 168.4 yards per game. Kentucky, meanwhile, ranks 38th nationally in rush offense, averaging just over 200 yards per game while facing four of the top 30 run defenses this season including six ranked ahead of Penn State's. The average national rank of run defenses faced by the Wildcats this season is 59.7.
Similarly, against Florida's No. 74-ranked run defense back on Sept. 8, Snell rushed for 175 yards as the Wildcats piled up over 300 yards on the ground in a historic 27-16 win over the Gators in Gainesville.
Against Mississippi State's 10th-ranked run defense on Sept. 22, Snell ran for 165 yards and four touchdowns. The four scores accounted for one-third of the total touchdowns allowed by the Bulldogs this season.
Four times this season the Nittany Lions have allowed a player to rush for 107 yards or more and only four times in 12 games have held an opposing team's leading rusher under their season average.
As if the school's all-time rushing record wasn't enough, Snell will likely be highly motivated after a very controversial ejection in the second quarter of last season's Music City Bowl loss to Northwestern, a game in which he posted career lows in carries (6) and rushing yards (15). After going 0-2 the last two seasons, the Wildcats are also still looking for its first bowl victory under head coach Mark Stoops.
All in all, it's shaping up to be somewhat of a favorable matchup for Snell, should he choose to play in the bowl game as expected, and will likely need only an average rushing game to become the most prolific running back in Kentucky football history.