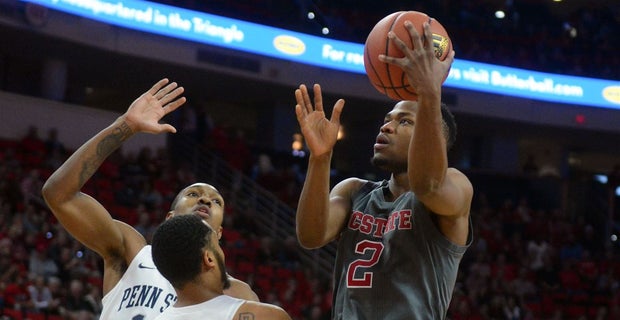 Coming off a layoff of more than a week, NC State will travel to Atlantic City, N.J. to take on Penn State in the Boardwalk Classic. The Wolfpack (8-1) will look to go 2-0 in neutral-site games against the Nittany Lions (5-4), who have struggled away from home this season at 0-2 thus far.
Penn State has gone 1-3 against Power Five or Group of Five opponents this year, but the lone win did come over No. 13 Virginia Tech in the ACC-Big Ten Challenge. With just a few days left before the two teams tip off, here's a complete look at the viewing info, a scouting report and player to watch when the Pack travels to Atlantic City this Saturday.
NC State vs. Penn State Game Info
Tipoff: Saturday at 2 p.m. ET
Where: Boardwalk Hall
TV: ESPNU
Live Stream: WatchESPN
Live Stats: SideArm Stats
Scouting Report: Penn State
The Nittany Lions are coming off a year where the program finished with 26 wins and won the NIT Championship — winning seven of the final eight games of the season. Head coach Pat Chambers appeared to be turning a corner after two straight seasons where PSU finished .500 or worse in the previous two campaigns.
However, that hasn't translated to this year, as Penn State is off to a 5-4 start to the year. A huge part of that slow start has to do with the loss of Tony Carr — who declared for the 2018 NBA Draft and was selected by the New Orleans Pelicans in the second round.
The loss of Carr has left a massive whole in the Nittany Lions backcourt, which has forced freshman Rasir Bolton to step up in his place. The No. 29 point guard in the 2018 class is currently averaging 13.6 points and 1.4 assists per game — including an average of 19.7 points in the month of December.
Player to Watch: Lamar Stevens
The Nittany Lions have gone from an outside-in team to inside-out with the play of its big men. The play of junior forwards Lamar Stevens and Mike Watkins has warranted that decision, but Stevens isn't bottled into one role as he plays inside and on the perimeter for the program.
NC State fans might remember Stevens' name as he played an integral role for PSU last year in PNC Arena. Despite the loss for the Nittany Lions, the 6-foot-8, 230-pound forward played 30 minutes, finishing with 13 points and eight rebounds to go along with one block and one assist in the loss.
Stevens is playing far better this year than he was as a sophomore, averaging 20.1 points, 8.9 rebounds and nearly one steal per game through the first nine games. His production has slowed down through the first three games in December with 14.3 points per game on a 19-for-50 (38 percent) shooting clip, but he's still a huge weapon for Penn State.
With Stevens making just one of his last 16 attempts from behind the arc, the Pack's defense will need to force him into tough shooting situations. If State can force Stevens and Penn State to chase points with a big deficit throughout the game, it has a great chance of moving to 9-1 for the best start through 10 games since the 2005-06 season.