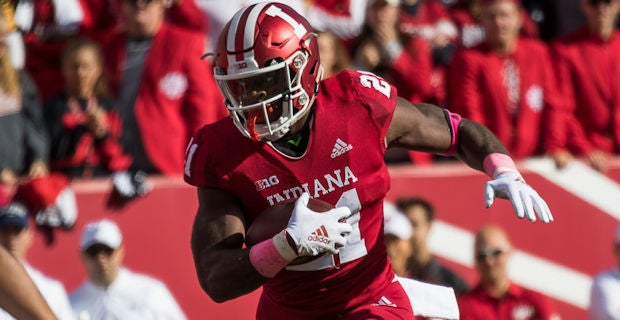 After a 33-28 loss at home to Penn State the Hoosiers are now 4-4 on the season overall and 1-4 in Big Ten play. Peegs.com has put together a list of the signees from the 2018 recruiting class that played in the game against the Nittany Lions, as well as the ones that have seen action so far this year for the Hoosiers.
Some highlights following the 8th game of the season vs. Iowa:
14 true freshmen have seen game action so far this season for the Hoosiers.
Six true freshmen for IU have played in all eight games so far this season. Those six are TE Matt Bjorson, DB Jamar Johnson, LB Micah McFadden, RB Stevie Scott, Athlete Reese Taylor, and DB Jaylin Williams.
Four true freshmen that have played this season are still eligible for a redshirt. Those four are DT Shamar Jones, WR Miles Marshall, QB Michael Penix and RB Kristian Pechac.
DB Devon Matthews missed his second game of the season due to an injury.
RB Stevie Scott started for the 7th straight time in the game vs. Penn State and he ran for more than 100 yards for the third time this season.
RB Ronnie Walker averaged nearly 10 yards per carry against the Nittany Lions and he scored his second career touchdown.
RB Kristian Pechac saw his first action of the season against Penn State as a member of the special teams unit.