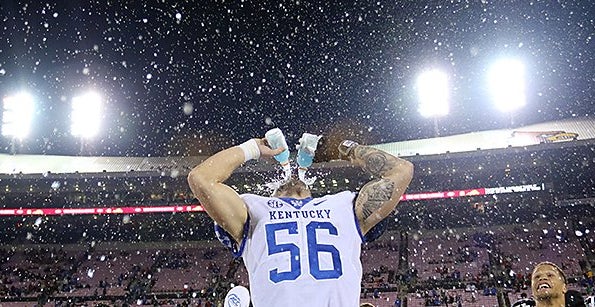 Kentucky football has made a lot of history this season and the 2018 team has done a lot to leave its mark on the program.
The Wildcats won nine regular season games for the first time since 1977, finished with a winning record in the SEC for the first time in 41 years and beat Florida for the first time since 1986.
Sunday, Kentucky was selected to its first New Year's Day bowl game since 1998, where it will face off against Penn State (9-3) in the VRBO Citrus Bowl.
But the Wildcats still have plenty to play for vs. the Nittany Lions on Jan. 1.
The Citrus Bowl marks UK's third straight bowl appearance but the Cats are still hunting its first bowl victory under head coach Mark Stoops.
"As a kid growing up, those were the games you were looking forward to, to kick off the new year in college football," UK linebacker Kash Daniel said Sunday. "It's very special, and I'm very thankful that I'm a part of it, but at the same time, we've been to two bowl games and came back empty handed both times. It's great that you made it, but if you made it, you might as well win it. That's our mindset going into this one."
After losses to Georgia Tech in the 2016 TaxSlayer Bowl and Northwestern in the 2017 Music City Bowl, a Citrus Bowl win would also give Kentucky just its third 10-win season in school history.
"It would mean the world," Daniel said. "That's something that hasn't been done here in a very long time, and not only just to be a part of it now, but when I'm done playing football and all that stuff, I can look back and say that was my team and be proud of it and be something I can hold on to for the rest of my life."
Buying into visions of bowl games and 10-win seasons is also part of the reason why first-year starting quarterback and junior college transfer Terry Wilson chose Kentucky over name brands like Florida and Nebraska.
"I feel like as an athlete you have to envision these types of things," Wilson said. "I feel like it helps when you're in the heat, 103 degrees, you're looking forward to something to get you past that hump. You've got to look big. You've got to look to want to win the SEC East. You've got to look to get to a big bowl game. I feel like we did that as a team. Everybody has put in so much effort and time to get into this predicament we're in, so I feel like I envisioned it."
In order to get over that final hump, Kentucky will have to win its fifth game as an underdog this season as Penn State opened as a 7-point Citrus Bowl favorite. The Wildcats have already beaten Florida, Mississippi State, South Carolina and Missouri as underdogs this season.
"This whole season, we've had a chip on our shoulder," Wilson said. "In previous years, people have always slept on Kentucky football. Going into every game they have us as underdogs. You can have us as an underdog, but we don't play like it. We're going to come out there and play ball. We've caught a lot of teams off-guard because we've always come out humming. We were ready. We were hungry. We were just ready to show everybody that we could play football."
Beating Penn State would provide the perfect capstone to Kentucky's already historic season, where UK is hunting its first 10-win season in 41 years, when the 1977 club also scored a win over the Nittany Lions.
"Just the tradition that Penn State has, a football powerhouse for the longest of times, and any time that anybody mentions Penn State football, everybody's attention sparks up," Daniel said. "They're a really good football team. They're very well coached. They've got some athletes and going out there and being able to compete against them is going to fun, and I can't wait for the opportunity."