UNIVERSITY PARK, Pa. — The football versatility possessed by Penn State freshman Micah Parsons is no secret. He rose to national recruiting prominence as a high school defensive end and running back, then transitioned to linebacker earlier this year and has appeared at the position in every game.
The freshman, who leads the Nittany Lions with 43 tackles despite not yet logging a start, remains hesitant to restrict himself to one spot on the field. Or even one sport in Happy Valley.
"Micah wants to play linebacker, he wants to play running back, and he wants to wrestle for Cael (Sanderson) — and he's not kidding," Penn State coach James Franklin said Tuesday afternoon. "He talked to Cael about it. He wants to do it all, and he wants to do it all yesterday."
Parsons quickly confirmed Franklin's comments on Twitter, stating, "I'm not kidding!"
Sanderson has led the Nittany Lions wrestling program to seven NCCAA team championships. His roster previously featured Jan Johnson, who stepped up as Penn State's starting middle linebacker this season.
Parsons has played plenty of snaps alongside Johnson in an outside role that he essentially shares with fifth-year senior and designated starter Koa Farmer.
"Like I told you guys before, he's a freak athlete," Farmer said last week. "He's a great pass rusher. He's fast on the football. Ultimately, the difference between Micah, Game One to Game Seven, is he's a smarter football player. He's got experience and he's not making the same mistakes he was making in Game One. He's just going to keep doing a great job out there for us."
Parsons totaled seven tackles and one quarterback hurry last Saturday during a 30-24 victory over Iowa, seeing action in crucial late-game situations. He's collected at least five tackles in all but one Big Ten contest, earning a spot on the 247Sports Midseason True Freshman All-American Team.
"He's definitely grown and become a more confident player," starting outside linebacker Cam Brown said Tuesday. "I feel like he's doing everything he needs to do to learn the position, to be confident. And at this point I feel like he just needs to stop thinking and play as fast as he can, and you guys will see incredible things from him."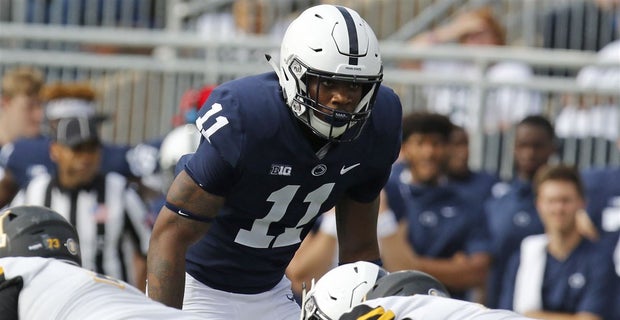 Something we haven't yet seen in full bloom this season is Parsons' prowess as a pass rusher. He was regarded as one of the country's premier edge defenders during high school, recording double-digit sack totals every year and giving Power Five offensive line prospects fits during showcase camp events.
"I don't think there's any question that Micah could play D-end," Franklin said. "We had an opportunity where we had a little bit more depth at D-end, and we had more questions at linebacker and felt like he could answer some of those questions, and he wanted to do it."
Through eight games, Parsons has picked up half of a sack (vs. Ohio State). There is clearly room for growth that could eventually lead toward a hybrid-like impact in defensive coordinator Brent Pry's scheme.
"As Micah continues to grow and get more confidence, and Brent gains more confidence, as well, I think there's a lot of ways we can use him in both ways," Franklin said. "I think we can use him as a linebacker. I think we can get him into situations from personnel packages where we're using him to blitz the quarterback and rush the quarterback. So, in a lot of ways, you're able to take advantage of all his skills."
There are long-term goals and short-term priorities regarding Parsons' presence in the Penn State defense.
"That will be a constant conversation over the next number of years here," Franklin said. "But for us right now, I see him getting better each week and gaining confidence. The reps usually show that, indicate that. So I think you'll see Micah continue to grow and play with more confidence, and I think you'll also continue to see Micah have more and more production. Then, as he continues to really start to master that position, I think you'll start to see us put more things on his plate."
As far as any potential future across the line of scrimmage, well, that remains undetermined. But you're sorely mistaken if you think Parsons isn't capable of doing damage out of the offensive backfield.
He was arguably the premier senior running back across Pennsylvania's prep landscape last season at Harrisburg High School, rushing for 1,239 yards (11.4 per carry) and 27 touchdowns. During his widespread recruitment, Parsons mentioned Penn State among programs that had discussed the possibility of him contributing on both sides of the ball.