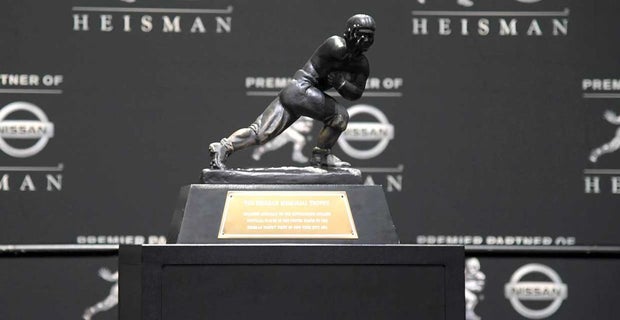 This marks year No. 17 that I'm voting for the Heisman Trophy. It's an honor to be on the panel and something I take very seriously. I attempt not to fall into any sort of groupthink when it comes to casting my votes, and I make a point of waiting until the middle of November before starting to seriously consider who a particular year's winner might be.
While voting opens in late November, I never cast my ballot until after the championship weekend games have been played. On the ballot, you vote for first, second and third place. This year, my three finalists happened to be the same as the three finalists who were sent to New York for the presentation ceremony.
Below, you will see how I voted and why I voted the way I did.
I'm not going to get bogged down in the minutia of season stats this year. I think we all can agree that all three of the finalists have posted outstanding numbers in 2018. When deciding on who deserves first place, it came down to a balance of winning and performing well in the clutch. So here is how I voted…
First Place: QB Kyler Murray, Oklahoma
This guy was something else. Yes, the Big 12 has become well known as a conference where nobody plays any defense. But that does not take away from what Murray did.
Consider that the Sooners won five games by 10 points or fewer. Even in OU's only loss — by three points to Texas in Dallas — he rallied the Sooners from a 45-24 fourth quarter deficit before the Longhorns won on a late field goal.
Then, when Oklahoma was in a situation where it needed to win — and win impressively — in the Big 12 championship rematch with Texas to earn a spot in the College Football Playoff, he was outstanding again.
He hit on 25 of 34 passes for 379 yards, three touchdowns and no interceptions in that game. That included a TD pass with two minutes left that extended the Sooner lead to 39-27, which would become the final.
People may look at the Oklahoma offense and suggest that Lincoln Riley's system makes most QBs look good. After all, Baker Mayfield won the Heisman just last year.
But the bottom line is Murray found himself in A LOT of clutch situations. And he performed extremely well in all of them — even in the Sooners' lone loss. I don't think there's another college football player who can say the same thing this year. Which brings us to…
Second Place: QB Tua Tagovailoa, Alabama
Remember that business earlier about not forming serious opinions until mid-November and not voting until after championship weekend games? Unfortunately, Tagovailoa is destined to be remembered as exhibit "A" of why Heisman voters must be patient.
An injury in the SEC championship game against Georgia robbed him of the one thing he needed to prove that he deserved to win the 2018 Heisman — a clutch performance in 2018. Prior to that game, Alabama had been so dominant that he had thrown only eight passes in the fourth quarter all season.
In the fourth quarter against Georgia, he was forced to leave the game with an ankle injury. It was — by far — his worst performance of the year (10 of 25 for 164 yards, one TD, two interceptions, -21 yards rushing). And the Crimson Tide trailed 28-21 at the time.
Jalen Hurts came in and rallied Alabama to a 35-28 win. At that point, I realized that the Tide would probably still be undefeated right now with just about any capable major college QB under center.
It stinks that Tagovailoa did not get his chance to pull out that victory. Hopefully he is healthy for 'Bama's CFP semifinal matchup with the Sooners, so we can see him and Murray on the same field.
Third Place: QB Dwayne Haskins, Ohio State
Haskins was also very good in tight games. He was struggling at Penn State before taking advantage of the Nittany Lions' curious use of the bend-and-then-break defense to rally the Buckeyes from a 26-14 deficit with eight minutes to go to a 27-26 win. Rip PSU D-coordinator Brent Pry for allowing Haskins to complete short passes at will during the rally. But credit Haskins for getting the ball into the hands of his play-makers so they could do their things.
He also led OSU to a five-point home win over Nebraska and the wild 52-51 OT win at Maryland. And then he absolutely lit up the powerful Michigan defense, hitting on 20 of 31 passes for 396 yards and six scores.
But then there was Purdue. The Boilermakers stacked the box to stop the rushing attack (allowing only 76 yards on the ground) and dared Haskins to beat them. He could not do it.
Despite throwing 73 passes — and completing 49 of them for 470 yards — Haskins only found the end zone once. And the Buckeyes were blown out, 49-20. His chances of winning the Heisman died that night in West Lafayette. But give him credit for rallying and climbing back into the top three.
What About Trace McSorley?
I said it then and I'll say it again now: McSorley's Heisman hopes vanished when offensive coordinator Ricky Rahne called a designed running play for Miles Sanders on fourth and 5 from the Ohio State 43-yard line with less than a minute to go in that game and PSU down by a point. Sanders was dropped for a loss. The game was over. As a first-year OC, Rahne will use that moment as a learning experience. Simply put, if you have a Heisman-caliber QB, put the ball in his hands on the most important play of the season.
As it turned out, an injury sustained in the Iowa game seriously impacted McSorley's performance for nearly a month, and the record-setting QB's rushing numbers and passing accuracy both fell way off.
I still contend that when healthy, McSorley is as good as any quarterback in the nation. Unfortunately — as Tagovailoa learned late in the season — injuries are part of the game and sometimes can hit at the worst possible time.