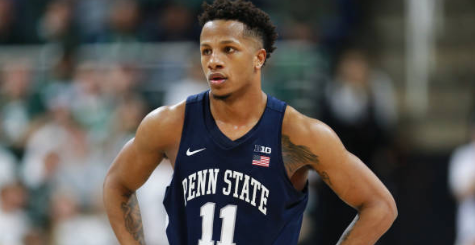 Indiana gets its first road conference test of the season tonight when the Hoosiers take on the Penn State Nittany Lions.
Tipoff is 7:00 p.m. and this will be a Big Ten Network broadcast.
Projected to finish near the bottom of the league after losing its heralded frontcourt of Tony Carr and Shep Garner, Pat Chambers' team comes into this one with a 4-3 record.
Penn State opened conference play on Saturday night, falling at Maryland, 66-59.
While that 4-3 record and preseason outlook doesn't look daunting, the computers like Penn State and Vegas has the Nittany Lions as the favorites tonight. Pomeroy has this team top 40 overall thanks to a defensive efficiency ranking of No. 7 in the country.
Making that happen is a 3-point defense that is top 30 nationally, giving up just 27.5 percent on the shot. Penn State is forcing a 22.1 percent turnover rate (top 50). The latter fueled by a 12.3 percent steal rate, No. 17 nationally.
About the only defensive measure this Penn State team is not high nationally is block shot rates and that should change now that senior center Mike Watkins is back in the mix. Coming off a knee injury, he returned in time last week to help the Nittany Lions upset a ranked and previously undefeated Virginia Tech team. Last year Watkins helped make Penn State the No 22 team nationally in blocked shot rates.
On offense junior forward Lamar Stevens has stepped up to become this team's true go-to guy. Stevens is second in the entire Big Ten in overall scoring, averaging 22.4 points per game. He's only hit five 3-pointers, so he's getting things done often in the post with his 6-foot-8, 230 pound frame.
Finding someone to help Stevens has been an issue as his scoring average is nearly double any other player on this team. The most help has come from senior Josh Reaves. A bit of a do everything guy for Chambers, the 6-foot-5, 214 pound Reaves averages 11.7 points, leads the team in assists and is second in rebounding.
What is making this team better than expected is an infusion of good freshman guards. The next three top scorers after Stevens and Reaves are all frosh. Rasir Bolton has yet to start but the 6-foot-2 freshman is averaging 11.1 points and playing 26 minutes per game. Myles Dread does start at guard and is at 8.7 p.p.g. and is second on the team in steals. Myreon Jones is another newcomer at guard playing quite a few minutes.
Where Penn State has taken a step back is in shooting the ball. Last season this team hit nearly 39 percent from 3-point distance and this year it's down to 31 percent. That's where you miss Garner and Carr. It also doesn't look to have a natural point guard outside of sophomore reserve Jamari Wheeler.
Recent games between Penn State and Indiana have been tight. The last seven meetings have been decided by less than four points on average. Last season Indiana earned a hard fought 74-70 win at home and two years ago these two schools went to three overtimes in Bloomington. IU prevailed in that memorable game, 110-102. Aside from that OT game, no contest between the two has seen more than a five point final deficit the previous five seasons.
For Indiana the status of Juwan Morgan is uncertain. The team's senior leader and captain went down with a lower leg injury with 3:30 left in Indiana's home win Saturday against Northwestern and did not return.
Vegas currently has Penn State as a 2.5-3.0 point favorite. 
Tonight's broadcast team is Kevin Kugler (pxp) and Shon Morris (analyst).