On April 22, 2017, Justin Fields strolled across the Beaver Stadium field alongside a group of fellow high school football stars that included Pat Freiermuth, Micah Parsons, Justin Shorter and Ricky Slade.
They were in town for the annual Blue-White Game and represented the nucleus of a burgeoning 2018 Penn State recruiting class that, at the time, topped all Big Ten talent hauls 247Sports' national composite rankings.
But recruiting — and college football, really — is defined by its fickle nature. This group soon felt the impact.
Parsons ended a 14-month verbal commitment to the Nittany Lions one day later, leaving Fields — America's No. 1 dual-threat quarterback — as Penn State's top-ranked recruit.
"He's just that dream quarterback everyone wants on their team," Shorter said last May following a camp that helped sustain his ascension toward becoming the country's top-ranked receiver.
A "dream quarterback" is not signed easily, especially when you're attempting to reel him in from more than 700 miles away.
Penn State coaches encountered Georgia Bulldogs staff members while attending Fields' 2017 spring game at Harrison (Kennesaw, Ga.) High School, watching together as he tallied four touchdowns in one half.
Coaches from Auburn and LSU visited Harrison High during the days leading up to that contest. Other teams in the Southeast, such as Alabama and Florida State, would also become heavily involved during a 2017 offseason that saw Fields earn Elite 11 MVP honors and climb national prospect rankings (he would finish second behind only current Clemson QB Trevor Lawrence).
Along the way, Penn State's grip on his pledge slipped.
James Franklin & Co. lost it entirely on June 6, 2017, when Fields concluded a six-month commitment and reopened his recruitment.
"This is probably the hardest decision I've ever had to make," Fields wrote on Twitter upon that announcement. "I know that I will disappoint some people by my decision and for that I apologize."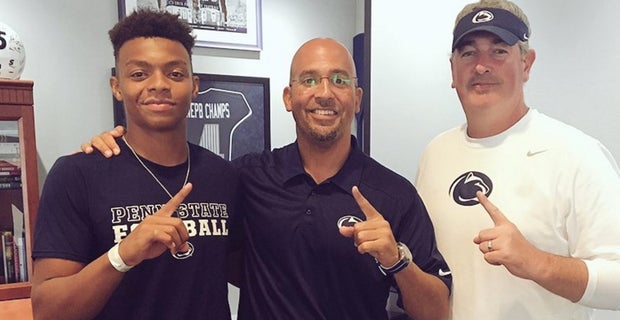 Linebacker Jesse Luketa, the vocal leader of PSU's 2018 class who previously referred to Fields as "one of the most athletic individuals I've ever seen," spoke on behalf of his fellow commits moments later.
"It's a tough situation," he said. "We were taken by surprise."
Even then, those who joined him at the Blue-White Game only six weeks earlier, expressed hope that Fields would return to the class.
"Justin is the best (high school) quarterback in the world right now," Shorter said less than a month after the de-commitment. "All of his throws are dimes, everything is placed perfectly and he's just an awesome player."
Fields, who totaled 2,770 passing yards, 1,176 rushing yards and 38 touchdowns as a junior the season before, orchestrated an offensive attack that would claim the seven-on-seven tournament title at The Opening Finals — held at Nike's world headquarters in Beaverton, Ore. — that summer.
His huddle at The Opening featured Shorter and Slade, and their shared experienced facilitated some enhanced optimism — at least briefly — that Fields' recruitment could come full-circle.
"I think based on my play and the way Ricky played too, hopefully [Fields] sees us even more as two guys he wants to play with in college," Shorter said afterward. "I hope he'll eventually come back to PSU but we'll see what happens."
Fields visited Alabama, Auburn, Florida, Florida State, Georgia and LSU leading up to an early-October 2017 decision. He never returned to Happy Valley.
Penn State replaced him in its class last July with fast-rising Connecticut quarterback Will Levis, who led the Nittany Lions' scout team offense as a freshman.
Fields chose Georgia, and enrolled in Athens three days before freshman QB Jake Fromm led Georgia into the national championship game vs. Alabama.
Fromm retained the starting job in 2018, while Fields burned redshirt status as primary backup QB and an offensive weapon en route to 328 passing yards, 266 rushing yards and eight total touchdowns.
As we now know, it was a one-and-done campaign for Fields at Georgia. Speculation of his intended transfer surfaced following an SEC title game loss to Alabama, and that departure soon came to fruition.
Fields reportedly arrives in Columbus this weekend and is set to join the Ohio State Buckeyes roster, with intentions to become immediately eligible. If that request is granted, he'd compete with rising redshirt sophomore Tate Martell — a premier QB prospect in the 2017 class — for starting duties.
Penn State also enters 2019 in search of a new starting quarterback, with redshirt senior Tommy Stevens and redshirt sophomore Sean Clifford expected to lead the competition. It's hard not to imagine what circumstances would look like if Fields had stuck with the Nittany Lions.
"I came back," Parsons tweeted to Fields last month while transfer news swirled. "Please come back too!!"
It seems likely the lauded freshman linebacker, who seriously considered Ohio State during a recruiting process that led him back to Penn State last December, will encounter Fields yet again at Beaver Stadium — for the first time since that shared April 2017 experience.
Parsons and the collection of young Penn State players who once viewed Fields as a potential linchpin for conference championship chases will instead place focus toward ensuring Fields never claims a Big Ten title.