Although the Penn State's football team failed to put together a complete game this past weekend on the road in Pascataway against the Scarlet Knights, the managed to grab a 20-7 victory, advancing their record to 8-3 on the year.
Fortunately for PSU, Rutgers was unable to move the ball with any sort of consistency in order to capitalize on the opportunities afforded to them in the contest. In the end, Penn State was too much for the Knights. Despite the stretches of struggles for Penn State in the game, the Nittany Lions had several players emerge to make an impact and help seal the win.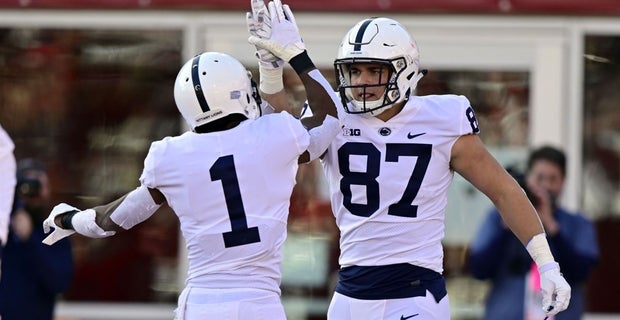 In one of the closest Penn State Player of the Game votes in a long time, freshman tight end Pat Freiermuth edged out freshman linebacker Micah Parsons for the honor against Rutgers. While both young guns made major impacts in the victory, the freshman tight end continued his impressive play this season serving as a primary go-to target for Trace McSorley in this game. On the day he grabbed three passes for 47 yards, two of those passes were caught in the endzone and were PSU's only touchdown scores.
James Franklin reviewed Freiermuth's emergence on the field, saying, "[The tight ends are] a good group, but he's playing at a really high level," James Franklin said. "It's not like he came in here and we had a hole on the roster and were forced to kind of play him. He's earned it the hard way."
Freiermuth ended up with 42 percent of the Nittany Lion fan vote to Parsons' 39 percent. Here is how the final voting broke down:
TE Pat Freiermuth: 42.0 percent
LB Micah Parsons: 39.4 percent
P Blake Gillikin: 7.8 percent
DE Shareef Miller: 7.8 percent
WR KJ Hamler: 3.0 percent
These are the Players of the Game honorees so far this season as selected by Penn State fans:
Rutgers: Pat Freiermuth, TE
Wisconsin: Robert Windsor, DT
Michigan: Jan Johnson, LB
Iowa: Jake Pinegar, PK
Indiana: Shaka Toney, DE
Michigan State: Miles Sanders, RB
Ohio State: Trace McSorley, QB
Illinois: Miles Sanders, RB
Kent State: Trace McSorley, QB
Pitt: Blake Gillikin, P
Appalachian State: KJ Hamler, WR
Freiermuth reviewed his Rutgers game perfromance, explaining, "We just came out there and attacked them physically. That was the emphasis all week. The coaches challenged us to come out and be the more physically team, and I think across the board as an offense, we did that."
The FOS/247 Player of the Game is the first and only game honor for Penn State players by Nittany Lion fans. Fan voting is conducted exclusively at FOS/247 after each Penn State football game.