Coming off an impressive 339-yard rushing perfromance against Ohio State the week prior, Maryland was expected to have an offensive advantage in the cold, soggy conditions against Penn State this past Saturday. So, many fans found it curious when Penn State opened up as two touchdown favorite against the Terrapins. The odds-makers apparently knew something as the Nittany Lions put together their most complete game of the season in a 38-3 route of the Terrapins. In back-to-back seasons Penn State has now outscored Maryland 104-6 and the Terrapins have not posted a touchdown against the Lions in 10 consecutive quarters dating back to halftime of the 2016 game.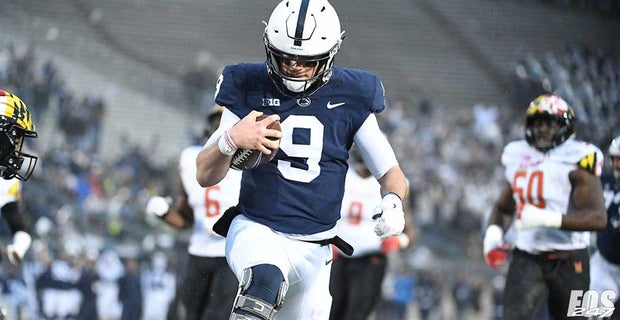 PSU benefitted from impressive performances from an array of Nittany Lion players across the squad in each phase of the game, but none moreso than senior quarterback Trace McSorley who connected on 12-of-22 passes for 230 yards and a touchdown. He also served as a major offensive spark early in the game rushing for two early scores and rolling up 71 yards on the ground on 11 carries.
For his efforts, fans across Nittany Nation named him as their Penn State Player of the Maryland Game. This is the third time the senior quarterback has received the honor this season, previously winning it for his performances against Ohio State and Kent State.
James Franklin discussed McSorley, saying, "Trace McSorley is what you want in all of your players. You love him because he is the same guy every single day. The guy has not had a bad day in five years. He has not had a day where he has had an issue academically, an issue with a girlfriend or an issue with family that he has brought into the Lasch Building. He is the same guy, from the day he stepped on campus during the recruiting process to now."
Here is how the final voting broke down:
QB Trace McSorley: 43.0 percent
DE Yetur Gross-Matos: 38.2 percent
Offensive Line: 14.7 percent
RB Miles Sanders: 3.7 percent
PK Jake Pinegar: 0.4 percent
These are the Players of the Game honorees this season as selected by Penn State fans:

Maryland: Trace McSorley, QB
Rutgers: Pat Freiermuth, TE
Wisconsin: Robert Windsor, DT
Michigan: Jan Johnson, LB
Iowa: Jake Pinegar, PK
Indiana: Shaka Toney, DE
Michigan State: Miles Sanders, RB
Ohio State: Trace McSorley, QB
Illinois: Miles Sanders, RB
Kent State: Trace McSorley, QB
Pitt: Blake Gillikin, P
Appalachian State: KJ Hamler, WR
McSorley reflected on his career at Penn State, saying, "To be able to reminisce on everything we've been through. Taking all the memories — our freshman year and the first camp practice in the stadium, the first actual game there, and so on. Doing it with those guys we all came in with. A group of guys that just fought hard every single day and worked our buts off to bring the program back."
The FOS/247 Player of the Game is the first and only game honor for Penn State players by Nittany Lion fans. Fan voting is conducted exclusively at FOS/247 after each Penn State football game.