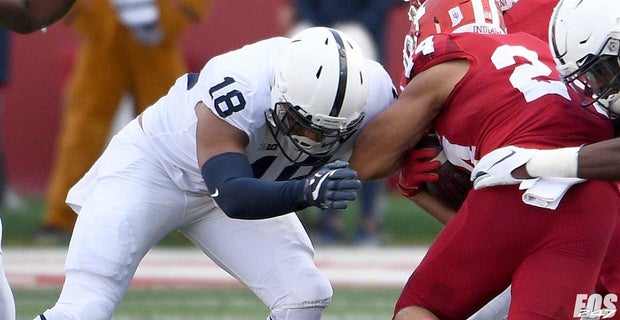 The Nittany Lions managed to get back on the winning track despite a variety of issues touching every phase of the game. In the end, Penn State managed to fend off the Hoosiers to walk away from Bloomington with a 33-28 road victory to advance to a 5-2 record on the season.
While some chronic issues appeared in this game, including dropped balls and missed tackles, the Lions had some players who stepped up in major ways on both sides of the ball to help carry the team to victory. It was hard-fought win, which was not necessarily expected by most fans, but one that further showed the staff where they have to focus on improving as another tough stretch of conference games comes up in the schedule.
In the end fans named defensive end Shaka Toney their Lions247 with Fight On State Player of the Indiana Game. Toney was a huge factor in this win and wreaked some havoc late in the game in Indiana's backfield. The defensive end ended up with six solo tackles in the game and four sacks along with a forced fumble which gave the Lions some key stops and a much needed edge with the game on the line.
As Penn State head coach James Franklin said of Toney, "Shaka has shown us flashes of really good things for a while. He's not the biggest guy so I think sometimes we don't give him enough credit for what he's able to do in the run game. But I think that's the next step, to get more tackles on normal downs, get more tackles for loss on normal downs, get production when it comes to sacks early in the game, and then be able to do it when it matters most, which is what Shaka was able to do at the end of the game in a critical situation."
For his efforts, Penn State fans honored Sanders in overwhelming fashion with an incredible 62.1 percent of the fan vote. Second place went to quarterback Trace McSorley with 19.5 percent of the ballots. Here is how the voting broke down:
DE Shaka Toney: 62.1 percent
QB Trace McSorley: 19.5 percent
DE Yetur Gross-Matos: 16.5 percent
WR KJ Hamler: 1.9 percent
These are the Players of the Game honorees so far this season as selected by Penn State fans:

Indiana: Shaka Toney, DE
Michigan State: Miles Sanders, RB
Ohio State: Trace McSorley, QB
Illinois: Miles Sanders, RB
Kent State: Trace McSorley, QB
Pitt: Blake Gillikin, P
Appalachian State: KJ Hamler, WR
When asked about his approach to the game, Toney explained, "I'm not a big up-and-down guy. I'm real mellow, real laid-back, just a kid from West Philadelphia. I've been playing football my whole life. When you make plays, my high school coach always taught me, when you make plays, act like you're supposed to make them."
The FOS/247 Player of the Game is the first and only game honor for Penn State players by Nittany Lion fans. Fan voting is conducted exclusively at FOS/247 after each Penn State football game.