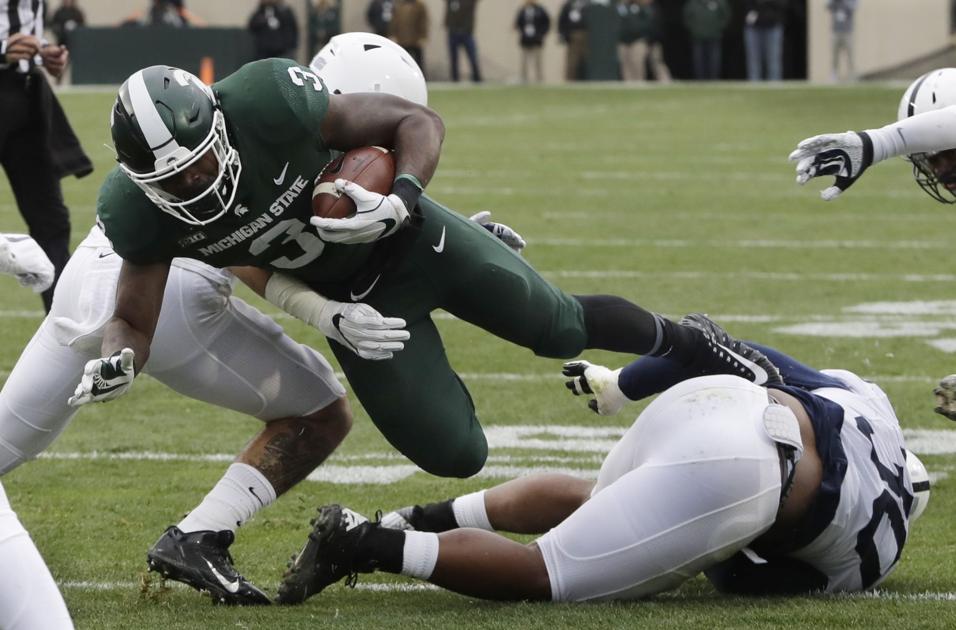 STATE COLLEGE – Having lost two of three starters from last season's team, Penn State has been focused on the linebacker position throughout camp.
Head coach James Franklin said the situation is beginning to take shape as camp approaches the start of its third week.
"I think we're closer to making some decisions at linebacker," Franklin said.
Franklin wouldn't specify what or who those decisions involve, however. Instead, he took the time to praise several players competing for starting jobs.
"I think Cam Brown looks good, really good," Franklin said. "I think Jan Johnson looks good. Koa Farmer looks good. I think Jesse Luketa is making a move, getting here a semester early for him has been really beneficial. I think Jarvis (Miller) is finally getting comfortable at the position and playing to his strengths. And, obviously, Micah (Parsons) has done some pretty impressive things."
Another player Franklin had some high praise for after Wednesday's practice was redshirt freshman Ellis Brooks.
Unlike several others in the linebacker corps, Brooks is lining up at the position he's always played – "Mike" linebacker.
Parsons is a defensive end by trade, and Farmer started his career as a safety, but Brooks has anchored the middle of a defense for some time now.
"Ellis is doing some really good things inside," Franklin said. "Ellis is different than a lot of the other guys because this is the position he's played naturally for so many years. His technique and fundamentals are really strong."
Ontario's own
Like Parsons, Luketa was an early enrollee this past winter.
Luketa was born and raised in Ottawa, Ontario, before making the decision to move to Pennsylvania to further his football career as a teenager.
According to Franklin, that has instilled a sense of maturity into the freshman.
"He's a mature kid in general, and then you leave home at that age and live somewhat on your own, that creates some of that as well," Franklin said. "And then him being able to graduate early, that sort of magnified (his maturity).
"I think in general he's a mature, heady kid. His life experiences have helped."
Franklin said Luketa looks like a different player physically than the one who arrived on campus in January.
Working with the strength and conditioning staff, has chiseled his way from 240 pounds to an athletic 236 pounds.
"He's really changed his body," Franklin said. "If you look at him, he's much more lean right now. He's quicker. His functional movement has been really, really good. I'm very pleased with him."
Bowen not on first unit
One player who Franklin didn't mention at first with the others, before being reminded, was Manny Bowen. Franklin elaborated that forgetting about his senior linebacker when running down the list wasn't because Bowen has been doing anything poorly, but more because he already knows the type of player the Barnegat, New Jersey, native is.
"Manny, it's not like coming on or any of those types of things. We already know he can play," Franklin said. "So that really doesn't fall into this conversation."
Bowen's dismissal, and subsequent return to the team, has been well documented.
Given Bowen's experience and comfort level in Brent Pry's defense, and the fact the Nittany Lions have that opening at "Mike" linebacker, it would be plausible to expect him to start in week one.
But, similar to what the defensive coordinator said at media day a few weeks ago, Franklin said Bowen will not be starting early on in the season.
"I don't really necessarily want to have this conversation right now before we talk to the players," Franklin said, "but no, no he will not. I think that's kind of already been covered by Brent."
Even though Bowen was dismissed from the team last winter, his teammates have welcomed him back into the fold without a hiccup.
Getting a player back that has played as much as Bowen has – he's appeared in 21 games for the Nittany Lions – is only good news for the rest of the defense.
"It's great to have Manny Bowen back," defensive end Shareef Miller said. "Great to have him back, having that leadership back on the linebacker group… He's looked good. He's looked the same. Happy for Manny to be back."
Vincent Lungaro covers Penn State football for CNHI Pennsylvania media properties.