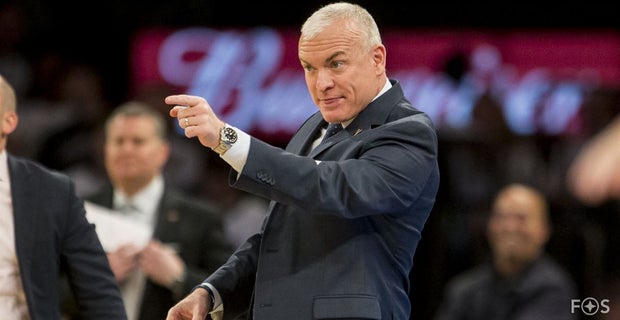 Penn State dropped a 59-56 decision to Bradley in the title game of the Cancun Challenge in Cancun, Mexico, Wednesday. The issue? When it came to 3-point shooting, the undersized Nittany Lions could not throw the ball into the ocean.
PSU was 4 of 27 from the 3-point line. That included freshman guard Myles Dread's missed triple from the top of the key as time expired that would have forced overtime.
The Nittany Lions' late-game brick-fest — seven of their final eight shots were 3-pointers, and they missed all of them — wasted a tournament-record 27-point effort from forward Lamar Stevens AND an incredible play that gave Dread a chance to tie it.
Penn State made its final field goal of the game when freshman Rasir Bolton hit a 3-pointer with 2:55 to go to cut the Bradley lead to 57-55. That's when the streak of seven-straight 3-point misses began.
Yet with less than two seconds left in the game and PSU somehow down only 59-55, Stevens grabbed his own missed layup and was fouled. He made the first free throw to cut the lead to 59-56. Then he hit the back rim on the second on purpose.
Center John Harrar tipped the ball back toward the free-throw line. Knowing his team needed a 3-pointer to win, Stevens faked like he grabbed the ball and then faked a shot. The ball instead went to Dread, whose wide-open chance to tie hit the front of the rim.
Dread, who entered the game hitting 41 percent of his 3-pointers, was 1 of 7 on this night. And he was not alone in struggling from the arc. Senior guard Josh Reaves was way off his game, going 0 of 6 from the floor, 0 of 5 from long range and committing five turnovers to go along with no assists and only one steal. Bolton was 2 of 8 from the 3-point line.
That completely mitigated the outstanding work Penn State did on the glass, as it out-rebounded Bradley 45-28.
The Nittany Lions slipped to 3-2 with the loss. Bolton was the only PSU player other than Stevens to reach double figures as he scored 10 off the bench.
Bradley (5-1) got 18 from forward Elijah Childs and 16 from guard Darrell Brown.
Next up for Penn State is a home game with Virginia Tech Tuesday. The action at the BJC tips at 7 p.m. and can be seen on ESPN2.