Penn State senior quarterback Trace McSorley has had an impressive season to-date with both his arm and his feet, as he continues to roll up record-breaking performances for the Nittany Lions. For his efforts this season McSorley has been named a semifinalist for the Maxwell Award, a college football honor given to college football's Player of the Year.
McSorley is one of 20 remaining candidates for the national college football honor and one of five Big Ten semifinalists along with Michigan RB Karan Higdon, Ohio State QB Dwayne Haskins, Purdue WR Rondale Moore and Wisconsin RB Jonathan Taylor. McSorley is also one of 11 quarterback seminfinalists for the award.
McSorley currently owns a wide array of career records across Penn State football's record books, including total passing yards (8,997), total passing touchdowns (71), total offense (10,513), rushing touchdowns by a quarterback (27), touchdowns responsible for (98), 300-yard passing games (10) and 200-yard passing games (26).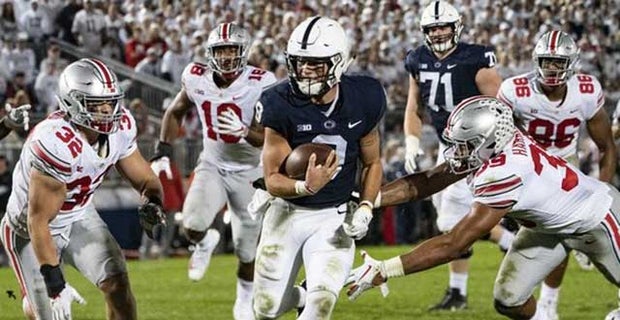 He also holds Penn State season records for total passing yards (3,614; 2016), total completions (284; 2017), total passing touchdowns (29; 2016), rushing touchdowns by a quarterback (11; 2017), total offense (4,061; 2017), touchdowns responsible for (37; 2017), 300-yard passing games (5; 2016, 2017) and is tied for the top spot in 200-yard passing games (11; 2016, 2017).
McSorley threw at least one touchdown pass in 34-straight games, from the 2016 TaxSlayer Bowl until the 2018 Indiana game. This was not only a Penn State record, but also the fifth-longest streak in FBS Power Five history. He also is the first Penn State player and 11th in Big Ten history to reach the 10,000-yard mark in total offense. He also ranks third in Big Ten history with 98 touchdowns responsible for behind only Ohio State's JT Barrett (147; 2014 – 2017) and Purdue's Drew Brees (106; 1997 – 2000).
Named for Robert "Tiny" Maxwell, the award has been given to the nation's top collegiate player of the year since 1937. Penn State is tied with Notre Dame for the most Maxwell Awards won by a program with seven. Previous Nittany Lions to win the award are Larry Johnson (2002), Kerry Collins (1994), Chuck Fusina (1978), John Cappelletti (1973), Mike Reid (1969), Glenn Ressler (1964) and Richie Lucas (1959).
Voting for the Maxwell Award finalists will begin on Wednesday October 31 and will close on November 18. Three finalists for the award will be announced on November 19 and a second round of voting for the ultimate winner of the award will take place at that time. Eligible voters include Maxwell Football Club members, NCAA head football coaches, sports information directors and selected national media.
The winners of the 82nd Maxwell Award will be announced as part of the ESPN Home Depot College Football Awards Show which will be broadcast live on ESPN on December 6, 2018. The formal presentation of these awards will be made at the Maxwell Football Club's Awards Dinner on Friday, March 8, 2019 at the Tropicana Casino & Resort in Atlantic City, New Jersey.