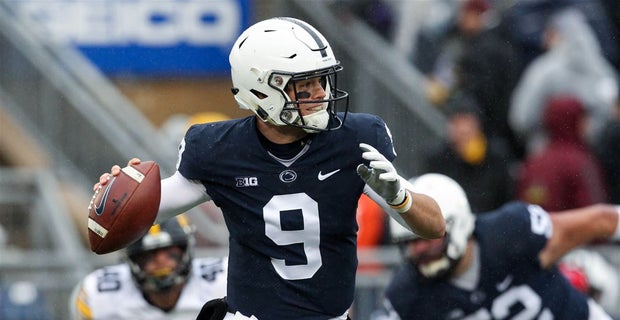 One of the best careers in Penn State history will come to a close on Dec. 1 when the Nittany Lions play Kentucky in the Citrus Bowl. Senior quarterback Trace McSorley's illustrious career will wrap up with an opportunity to prove himself once more against one of the nation's best defenses.
McSorley enters the game with 2,284 yards passing, 16 touchdowns and six interceptions this season. He's also run for 11 touchdowns and rushed for over 100 yards twice this season. For his career, McSorley holds Penn State records for passing yards (9,653), passing touchdowns (75), total offense (11,276), rushing touchdowns by a quarterback, touchdowns responsible for and several more.
His ability to make plays on the ground and through the air will be a tough challenge for Kentucky's defense. However, the Wildcats should be well prepared for the Nittany Lions. The team received a boost when projected top-10 pick Josh Allen elected to play in the bowl game rather than sit out to preserve his draft status. Allen is the most dominant edge rusher in Kentucky history and holds the record for career sacks and single-season sacks. Since the regular season ended, Allen has been awarded with the Lott IMPACT Trophy, the Chuck Bednarik Award and Bronko Nagurski Trophy as the nation's top defensive player and was also the SEC defensive player of the year.
"It just says a lot about who he is and the way he cares about this place, the way he cares about his teammates," Kentucky coach Mark Stoops said. "I said the same thing to him. Obviously, I'm extremely close to Josh and spent a lot of time with him recently and I said the same thing to him. I said, 'Josh I want you to know that your legacy is set and nobody, myself, or anybody would judge you any differently if you choose not to play in this game.' I was definitely a factor a year ago in helping him make that decision but on this one I really didn't want any part of that. I wanted him to truly make that decision on his own, and whatever he felt in his heart and whatever he felt was the right decision because we just respect him that much and he's done so much for this place."
Allen will play a big role in slowing down McSorley and Penn State's offense. The Nittany Lions rank No. 48 in total offense and No. 29 in rushing offense. Since this will be the first meeting in 20 years between the two schools, it's not surprising that neither side is familiar with the other. McSorely knows that Kentucky exceeded expectations this season and he's impressed with running back Benny Snell.
"Obviously Benny Snell is a great player," McSorley said. "He's been dynamic all year. They made a lot of noise this year. It's not something that people expected out of them but they've got a ton of great playmakers, especially on the defensive side of the ball that can get after the passer and make plays in the run game and make life difficult for an offense. It's definitely going to be a big challenge for us coming in. Playing in the SEC, they've got that SEC prestige to them that they play against top competition every week, so it's definitely going to be a tough challenge for us."
Kentucky will be motivated to win the Citrus Bowl after falling short in the postseason the past two years. Penn State had aspirations of reaching the College Football Playoff this season, but losses to Ohio State, Michigan and Michigan State derailed those dreams. Still, McSorley, like any competitor, wants to leave Orlando with a win.
"I think that would be probably the cherry on top for everything, just to be able to go out having the great taste of victory in your mouth that you won the game," McSorley said. "Having a good career here and being able to put on that Penn State uniform for the last time, that traditional blue and white and the one stripe down the middle of the helmet. It's one thing everyone recognizes. To be able to put that on one last time and come away with a win, it'd be the cherry on top for my career."
———————————————
Follow The Cats' Pause beat writer Derek Terry on Twitter. Contact him by email at derekterry@catspause.com.