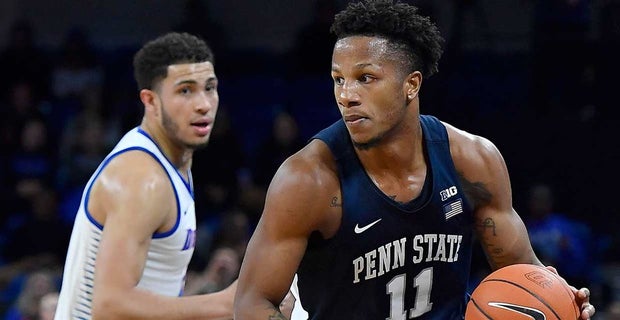 Penn State is relying heavily on a pair of talented true freshman guards this season. In a 72-70 overtime loss to DePaul in Chicago Thursday night, the rookies struggled in different ways.
Point guard Rasir Bolton, fresh off a 25-point effort in a win over Jacksonville State Monday, came back down to Earth in a big way. Playing his first true road game, he came off the bench and missed all 10 of his shots, including an 0-6 effort on 3-pointers. He had four fouls, four turnovers and no assists.
Shooting guard Myles Dread was a different story, hitting 5 of 10 triples to finish with 19 points. But when presented with an open 3-pointer that could have won the game with time running out, he faked to avoid an out-of-control charging defender and bricked a 17-foot jumper that would have forced a second OT.
Sophomore forward Trent Buttrick had a chance for a put-back but could not control the ball as the Nittany Lions fell to 2-1 on the season and saw their NCAA-leading eight-game winning streak snapped. The Blue Demons improved to 3-0.
The upside for Penn State? With so many young players being asked to handle vital roles, the Nittany Lions managed to close regulation on a 10-0 run to force overtime. PSU trailed 68-58 with 3:41 remaining when head coach Pat Chambers went with an undersized, pressing defense.
It worked. DePaul came unglued, and when PSU junior forward Lamar Stevens hit one of two free throws with 26 seconds remaining, the score was knotted at 68-68. Bolton got a steal on the other end but missed a contested layup at the buzzer as the game went to overtime.
Both teams struggled in OT. Buttrick made a pair of free throws with 39 seconds remaining to draw the Lions within 72-70. Penn State got the stop at the other end as Blue Demon Max Strus missed a triple, and when Bolton drove to the bucket a DePaul player knocked the ball out of bounds with five seconds remaining.
PSU inbounded to Dread, who passed on the 3-pointer and then missed the jumper.
Stevens led the Lions with 25 points and 12 rebounds. Senior forward Josh Reaves had 13 points, eight assists, six rebounds and four steals. Besides Stevens, Dread and Reaves, the rest of the team combined for 13 points. The Lions got only eight points from their bench and starting center John Harrar fouled out with three points, three rebounds and three turnovers in 30 minutes played.
Strus led DePaul with 21 points.
Penn State faces Wright State in the Cancun Challenge in Cancun, Mexico Tuesday. The game tips at 8:30 p.m. and can be seen on CBS Sports Network.
BOX SCORE