CURTIS LUPER (TCU)
The 53-year-old Luper serves as co-offensive coordinator at TCU where he's coached wide receivers and running backs since his arrival in 2013. He played his college football at Stephen F. Austin and Oklahoma State and made coaching stops at New Mexico, Oklahoma State (under Mike Gundy) and Auburn (under Gene Chizik) before going to TCU (under Gary Patterson). Luper was a member of Chizik's staff that won the 2010 national title.
In 2008, Oklahoma State's Kendall Hunter rushed for 1,555 yards under Luper's tutelage. While at Oklahoma State, the Cowboys led the Big 12 in rushing three straight seasons (2006-08). In 2013 while at Auburn, Ben Tate rushed for 1,362 yards as part of the nation's No. 13 rushing attack.
Under Chizik at Auburn, Luper was running backs coach and recruiting coordinator. In 2010, he was named by Rivals as one of the nation's top 10 recruiters among assistant coaches. He was promoted to co-offensive coordinator under Patterson at TCU in 2017.
The Sherman, Texas product was the No. 2-rated back in the state in the mid-'80s behind Thurman Thomas, a teammate at Oklahoma State. Barry Sanders also was a teammate with the Cowboys. Luper left Oklahoma State to serve as an air traffic controller for the United States Army before returning to school – Stephen F. Austin – six years after exiting the Cowboys' program. He was a second-team all-Southland Conference running back at the age of 27.
CHARLES HUFF (MISSISSIPPI STATE)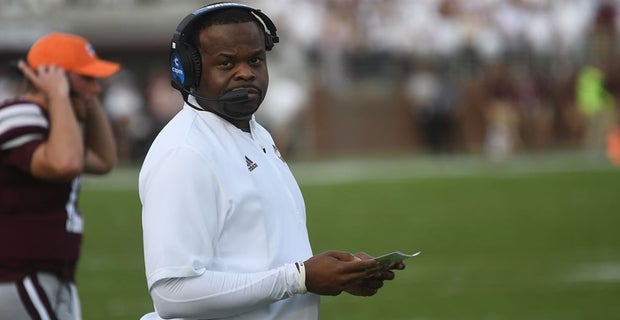 The 35-year-old Huff recruited and instructed Penn State running back Saquon Barkley before joining Nittany Lion offensive coordinator Joe Moorhead as assistant head coach, run-game coordinator and running backs coach at Mississippi State. He worked at Penn State from 2013-17 under James Franklin. In addition to coaching running backs at Penn State, he also served as special teams coordinator.
Listed in the biography put out by Mississippi State as "an elite recruiter," Huff has made stops at Western Michigan, Vanderbilt and Maryland, among others, and spent a year in the NFL with the Buffalo Bills when C.J. Spiller cracked the 1,000-yard mark.
Mississippi State was 20th in the country in rushing in 2018, led by quarterback Nick Fitzgerald, who rushed for 1,121 yards. But the top three running backs for the Bulldogs averaged 6.3, 6.2 and 7.6 yards per carry behind an offensive line that returned four starters from the 2017 season.
Huff, originally from Denton, Md., also has a background as an offensive line coach early in his career at Tennessee State and Maryland. He served as captain of the Hampton University football squad in 2005.
TONY ALFORD (OHIO STATE)
The 48-year-old veteran running backs coach and former Irish assistant (2009-14) left the Notre Dame program for the title of assistant head coach for offense and running backs coach at Ohio State, where he's been instructing for the past four seasons. (Alford was a senior running back at Colorado State when Urban Meyer was a first-year receivers coach for the Rams.)
Alford has been a part of an Ohio State program that has gone 48-6 the last four seasons. He's instructed Big Ten offensive player of the year Ezekiel Elliott, Big Ten freshman of the year Mike Weber, and 1,400-yard rusher J.K. Dobbins.
Prior to his arrival at Notre Dame, he coached running backs at Iowa State (under Dan McCarney), Washington (under Rick Neuheisel), and Louisville (under Steve Kragthorpe). Alford worked with Cardinal running back Victor Anderson, a 1,000-yard rush, Big East rookie of the year, and a freshman All-American.
Alford, a 1,000-yard rusher himself at Colorado State (1987-90), joined Charlie Weis' final Notre Dame staff in '09 as running backs coach and was retained by Brian Kelly as the receivers coach, where he worked with first-round draft choice Michael Floyd.
He returned to instructing the running backs in 2012 with the added responsibilities of slot receivers and recruiting coordinator. The '12 Irish rushing attack averaged 189.3 yards rushing per game, the most by a Notre Dame offense in 12 seasons.
MIKE HART (INDIANA)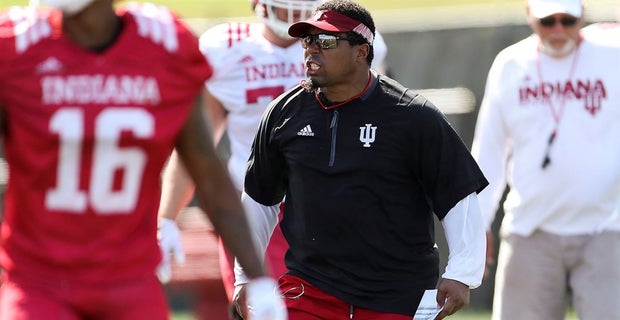 You likely remember him as the three-time first-team all-Big Ten choice and 5,000-yard rusher at Michigan. The 32-year-old Hart has spent eight years in the coaching ranks after a three-year stint with the Indianapolis Colts as a sixth-round draft pick.
You also may remember him as the guy who rushed for 124 yards and a touchdown against the Irish in a 47-21 win over Notre Dame in 2006. Hart guaranteed a victory over Notre Dame the following year after the Wolverines opened the '07 season with losses to Appalachian State and Oregon. Hart delivered on his promise with a 187-yard, two-touchdown performance in the Wolverines' 38-0 romp.
Hart has made coaching stops at Eastern Michigan, Western Michigan, Syracuse (2016) and Indiana (2017-present). It's difficult to measure Hart's ability as a running backs coach at places like Syracuse (before Dino Babers added the running game component) and Indiana (where the passing game generally reigns).
Hart has coached three running backs that have exceeded 1,000 yards in a season, two Mid-American Conference Freshman of the Year winners, and 2014 MAC offensive player of the year Jarvion Franklin.
Note: College football statistics list fumbles lost, although doesn't differentiate between running backs and quarterbacks/receivers/return men. But for the record, Mississippi State lost the fewest fumbles among these four schools in '18 with three, followed by Indiana (8), Ohio State (9) and TCU (11). Notre Dame lost four fumbles in '18, none by running backs. In fact, a Notre Dame running back has not lost a fumble in 50 games.