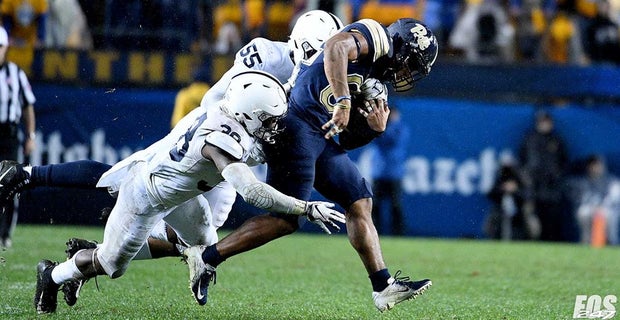 Per a report, you can add at least three more Penn State players to the NCAA's Transfer Portal. The SEC Network's Cole Cubelic reported on Sunday afternoon and Lions247 has confirmed that senior wide receiver Brandon Polk, junior cornerback Zechariah McPhearson and junior safety Lamont Wade have entered their name in the new NCAA transfer database.
Polk already has his degree and will be eligible to play right away should he choose to follow through with his transfer. McPhearson said on Twitter on Sunday afternoon that he will pursue a transfer after receiving his degree in the spring. He will be eligible to play right away. Wade is finishing up his sophomore season.
Polk played in 11 games this season, starting seven of them. He struggled with consistency in 2018, catching just nine passes for 162 yards and two touchdowns. He eventually lost his starting spot to true freshman Jahan Dotson and played sparingly down the stretch. He will finish his Penn State career with 27 catches for 367 yards and four scores. Polk burst onto the scene as a true freshman, starting in his first career game at Temple. That year he ran 18 times for 159 yards and a touchdown, while adding six catches for 57 yards and a score. He missed most of his sophomore season with an injury and was granted a medical redshirt. He will have one year left of eligibility entering the 2019 season.
McPhearson was Penn State's fifth cornerback this season and played in all 13 games on special teams. He finished the year with eight tackles and two pass breakups. He added a tackle for loss against Pittsburgh in September. He played in 24 games over the last two seasons after taking a redshirt in 2016 and finished his Nittany Lions career with 16 tackles.
Wade will be a true junior in the 2019 season after playing in 25 games over his first two years on campus. He arrived as an early enrollee in 2017 and moved from cornerback to safety in the offseason a year ago. Wade has 49 career tackles and two tackles for loss in his career. He's added three pass breakups and a forced fumble. Should he choose to return to Penn State for his junior year he's expected to be among a handful competing for Nick Scott's vacated safety spot.
Entering your name into the Portal means that college coaches can reach out, but the player can still return to school if he chooses.
"Beginning in October, Division I student-athletes will have the ability to transfer to a different school and receive a scholarship without asking their current school for permission," the NCAA announced in July. "The Division I Council adopted a proposal this week that creates a new 'notification-of-transfer' model. This new system allows a student to inform his or her current school of a desire to transfer, then requires that school to enter the student's name into a national transfer database within two business days. Once the student-athlete's name is in the database, other coaches are free to contact that individual … "
"The previous transfer rule, which required student-athletes to get permission from their current school to contact another school before they can receive a scholarship after transfer, was intended to discourage coaches from recruiting student-athletes from other Division I schools. The rule change ends the controversial practice in which some coaches or administrators would prevent students from having contact with specific schools."
Former Penn State players Juwan Johnson, Manny Bowen, Irvin Charles, Brelin Faison-Walden and Dae'lun Darien have also shown up in the portal. Bowen has since grad transferred to Utah and Fasion-Walden will suit up for Charlotte next season. Johnson announced his intentions to play his final season elsewhere earlier this week.